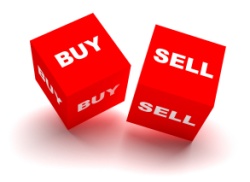 Did you know you can buy and sell websites and domain names to make money online?  Well you can.  There are also websites that handle the buying and selling.
One site you can do this at is Flippa.  Flippa allows you to buy and sell websites and domain names.  It's a site where you can review many attributes of the sites that are being sold.  Note: There are other sites out there that allow you to buy and sell websites and domain names.
The information provided about other sites can help you determine the direction of your site.
After reviewing many of the features at Flippa, I came up with a list of 10 things you can learn from website and domain names for sale.  I'm sure there are more but here you go.
1. Inspiration – You can view sites for sale by various listings such as featured sites, new listings, just sold, popular tags, and more.  With the information provided under these listings, just reviewing what's for sale can be inspirational.  From what type of sites have tons of traffic to how much they're selling for now and how it was done.  Along the way you can ask yourself whether the site is in a niche or sub-niche that you could possibly enter.
2. Source Code – You can take one of the sites for sale that look interesting to you and view the web page source code.  You can find out what the meta description says, what the meta keywords are, as well as links to other sites and whether they are nofollow or dofollow links.  You can figure out the keyword or keyword phrases used on a page.
3. Sitemaps – A lot of sites have a link at the bottom of their website that says "Sitemap".  This will tell you how big the site is as far as how pages make up the site.  A sitemap can also show you the keyword or keyword phrases a site is trying to rank for by observing the title of the pages.
4. Incoming Links – You can go to Google and issue the command site:name-of-site.com to see what incoming links there are to the website for sale.  This can be a huge eye opener as you'll learn if there are any other sites the seller has out there linking into the site for sale and how it was done.
5. Unique Visitors and Page Views – You can find out how many unique visitors and page views the site has every month.  You can use this information to set the bar for your site and how many visitors and page views it might take to be profitable.
6. Revenue – The revenue section of a site will show you how the site makes money from advertising, from sales of products or services, and affiliate sales.  This is an eye opener for you if you're trying to figure out how to make money with your site or a site you have in or around the same niche.
7. Site Owner – The description section of the site for sale is great because it allows the site owner to explain more details about the site including revenue.  You'll find information about how they are running the site and their outlook for future owners of the site.  Whether you plan on buying a site or not, you can use this information to model your efforts after.
8. Question and Answer – Another informative section is the questions and answers section where interested buyers can ask questions of the site seller.  Some of the questions you'll find answers to are:
How is the site advertising?
How much is the site making from advertising?
How much is the site selling products or services for?
How will the site continue to make money with new ownership?
What is the seller willing to provide that wouldhelp the new buyer promote the site?
etc…
9. Domain Names – You'll find many of the attributes of the websites for sale also listed with domain names.  What's interesting to check out is what sellers do with domain names that just sit there for a long time.  Also, don't forget that with an established domain name comes an already ranked, aged and indexed site that could prove better when starting a new site than starting from scratch with a brand new domain name.
10. New Resources – One of the most interesting things you'll discover are new resources (websites) that you can check out – UrlTrends, Compete, WHOIS, etc.  These sites include where all the detailed information comes from that a site like Flippa uses.  You can use these sites to gather information about your own site.