Here are 10 more twitter tools in my twitter series that you can check out on my Twitter category page.

1. Twitter Buttons – Twitter Buttons are free twitter buttons you can use on your blog or website.  Quite a few (over 100) to choose from.
See what folks are saying about Twitter Buttons.

2. twtvite – twtvite is a simple event manager.  Tweet and event in 140 characters and you'll see who will be attending, who won't be and who might be.
See what folks are saying about twtvite.

3. Twitalyzer – Twitalyzer help track influence and success on Twitter.
"The Twitalyzer is a unique tool to evaluate the activity of any Twitter user and report on relative influence, signal-to-noise ratio, generosity, velocity, clout, and other useful measures of success in social media."
Twitalyzer also has a Twitter Top 100.
See what folks are saying about Twitalyzer.

4. TweetSum – TweetSum – Digest your followers.
"TweetSum does one thing and does it well: we show you at a glance who's following you, give you the tools you need to decide whether you should follow them back or not, and let you quickly add or dismiss your new followers."
See what folks are saying about TweetSum.

5. Tweet O'Clock – Find out when it's best to tweet someone with tweetoclock.
How do we work it out? Well we simply work out which day and time they tweet most on, gives you an accurate idea of when they'll be using Twitter. Perfect time to tweet them! Results are cached for 24 hours to reduce server load.
See what folks are saying about Tweet O'Clock.

6. tweetizen – tweetizen is a way to discover tweets that matter to you.  Tweetizen groups tweets together so you can focus on popular tweets, technology tweets, etc.
"Tweetizen is a simple web-based tool designed to help you filter the daily influx of tweets, and easily find the ones that are relevant to you. Use Tweetizen to create twitter groups, and you'll be able to stay on top what is happening in all your areas of interest. Imagine having instant access to breaking news and the latest tweets on news, politics, technology, gossip, fashion etc. all in one place, rather than having to create multiple twitter accounts just to be able to find what you want."
See what folks are saying about Tweetizen.
7. Splitweet – Twitter multi-account manager and brand monitor.  Multi-account management for corporate users.

Splitweet allows the Twitter users to compose a list of accounts and distribute their tweets, choosing their release in one or more of their accounts. You can also follow your contacts tweets from all of your managed accounts in Splitweet. And don't forget to monitor your brand, it's so easy with Splitweet.
See what folks are saying about Splitweet.

8. Tweetmeme – Hottest Stories on Twitter are found at Tweetmeme.
"Tweetmeme is a service which aggregates all the popular links on twitter to determine which links are popular. Tweetmeme is able to categorize these links into 4 distinct categories, blog, video, image and audio."
See what folks are saying about Tweetmeme.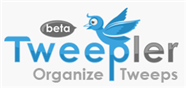 9. Tweepler – Organize your tweets with Tweepler.
"Tweepler Is an easy, more enjoyable way of processing your New Twitter Followers. View a list of New Followers and classify them in one of two "Buckets" Follow (meaning you wish to follow them back) and Ignore (meaning you don't wish to follow them and want to archive them out of the way, reducing clutter)."
See what folks are saying about Tweepler.
10.  YouTweet. Okay, YouTweet doesn't exist.  Well, at least I don't think so.  So, this is your chance to tell me what Twitter app you use or think is cool.  Let's hear it in the comments.