Welcome again to another 10 more twitter tools to check out as well as my twitter series that you'll find on my Twitter category page.  However, I've listed nine tools, allowing you and me to fill in more tools in the comments section.  Let me know if any of these help you.  Have fun.
1. WeFollowFriday – The first one up is WeFollowFriday.

Here's their pitch:
WeFollowFriday.com is the number one place to get more twitter followers and grow your network. All you have to do is login and follow people and in return they will follow you. If you don't want to be constantly following people try purchasing VIP it will get you tons of followers very fast.
Here's how it works:
In order to join the train, you must login and click all the VIP accounts and all 40 randomly chosen regular accounts. You are then added to the train and have a chance in showing up as 
one of the 40 randomly chosen accounts. Everybody must follow all VIP accounts to join, which is why they get the most followers.
And here's what folks are saying about WeFollowFriday.
2. tweeps.info – tracking your tweeps.  tweeps.info answers the following questions:
What do they tweet about?
How much do they tweet?
How social are they?
Do they use hashtags?
Share URLs?
Tweeps.info answers these questions and more. They analyze the content of Twitter users' tweets to find interesting statistics about them. We'll even tell you whether a user seems to be a prominent person or celebrity, or whether they display bot-like behavior.
Just type in a name and away you go.
And here's what folks are saying about tweeps.info.
3. Tweetboard – Tweetboard is true twitter conversation for your website.

Tweetboard is a fun and engaging micro-forum type application for your website. It pulls your Twitter stream in near real-time (max 1 min delay), reformatting tweets into threaded conversations with unlimited nesting. Conversations that spun off the original conversation are also threaded in-line, giving your site visitors full perspective of what's being discussed.

Tweetboard is also a powerful viral tool that engages your website visitors. Each time someone posts (or replies) via your board, a link back to the corresponding conversation is appended to their tweet, creating a viral stream of Twitter traffic to your website.
And here's what folks are saying about Tweetboard.
4. Localtweeps – Localtweeps helps localize the twittersphere.

By providing your zip code at the Localtweeps website, you'll:
Get found and followed by tweeps near you
Find tweeps near you based on location or keyword
Post and browse local events and specials
When you follow Localtweeps on twitter, you'll be notified when new tweeps join twitter.
And here's what folks are saying about Localtweeps.
5. Twitfresh – Twitfresh will login to your twitter account and remove all the poeple you are following but are not following you back.  As simple as that.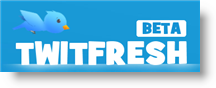 And here's what folks are saying about Twitfresh.

6. Twitter your Flickr – Flickr has integrated Flickr2Twitter allowing you to upload your content by email to flickr (via mobile phone as well as blog), or feature your existing flickr content in your twitter stream by viewing an image then selecting the "Blog this" menu selection and selecting Twitter: <twitter username>.  Also, don't forget the Firefox add-on flickr2twitter over on the Firefox add-on site.  It puts a little icon with an "f" and a "t" above the image you're viewing so you can quickly send to your twitter stream.  Pretty cool.
And here's what folks are saying about Flickr2Twitter.
7. cotweet – cotweet's tagline:
CoTweet is a platform that helps companies reach and engage customers using Twitter.
Couple features of CoTweet:
Manage up to six twitter accounts with one login.
Monitor keywords and trends in the CoTweet interface
And here's what folks are saying about CoTweet.
8. Twitter Favorites – Not so much a tool but a tip.  Lately I've been using the twitter favorite feature as a bookmarking tool.  Is yours empty?  Why not start using it and check some of your followees and followers favorites.  It's a great resource.

9. Screenr – Screenr is a way to record screencasts and tweet them to your twitter stream.  The software is extremely easy to use and does a really nice job.  I wrote about it in this article How to Create Screencasts with Screenr.
And here's what folks are saying about Screenr.