Here are 10 definitions related to Web Development.
1. Web Server – A web server is a computer that serves up web pages to visitors.  A web server is setup in such a way that many people who browse to a web server, experience a fast, reliable delivery of web pages.
2. Linux – Linux is an operating system.  An operating system controls what a computer does.  If you run a self-hosted WordPress blog, most likely it's running on a Linux web server.
3. Web Hosting – A web hosting company allows you to use their resources, namely web servers, to host your web pages on.  For example, I use the web hosting company HostGator to run my WordPress blogs on.  I use the "Baby" package.
4. Apache – Apache is web server software that runs on a web server.  Apache web server software controls the delivery of web pages to visitors of your web site.
5. MySql – MySql is a Database Management System.  A Database Management System or DBMS allows you to create tables that store data in them.  An easy analogy to a database is a phone book.  A phone book is a database as well as a database management system.
6. PHP – PHP or Hypertext preprocessor, is a scripting language that has become a very popular language for web development.
7. Development Environment – A Development Environment or an IDE – Integrated Development Environment, is a software program or collection of software programs that work together to make up your web development environment.  Development environments like Dreamweaver , Zend Studio and Aptana Studio include authoring tools that help you work with PHP, HTML, CSS, and Databases, just to name a few tools, in one place.
8. HTML and CSS – I'll put HTML and CSS together since they've been around for quite some time and complement each other as well.  HTML is the core of a website.  HTML allows you to create websites.  CSS or Cascading Style Sheets allows you to manipulate or manage a web page.  CSS is a way to "style" your site over many pages in a standard way.
9. JavaScript and XML – JavaScript is a scripting language that's been around for quite some time and allows you to manipulate your HTML by providing forms, pop-up window, calculating and many other features you can provide on a web page.  XML is Extensible Markup Language that provides a way to store and describe data in a text file.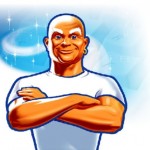 10. Ajax – No it's not Mr. Clean, the Gini from the all-purpose Ajax cleaner TV commercials.  Ajax stands for "Asynchronous JavaScript and XML.  Together these technologies provide a smooth interface.  Want some examples?  Check out Google Suggest.  Type in the word "bass" and watch Google Suggest, suggest what you might be searching for by providing a drop-down list of suggestions on the fly.
Also, get over to Freshbooks and create an account.  Add some invoice line items and you'll see what kind of interface can be accomplished using Ajax.  Freshbooks ROCKS!!