Did you know you can get themes over at WordPress Theme Directory.  Here are three from the directory that I like.
1.  This is a clean and simple theme called Fusion.  A reader of a blog with this theme can click on an arrow image in the upper right-hand corner of the theme to widen the theme to full width or narrow it.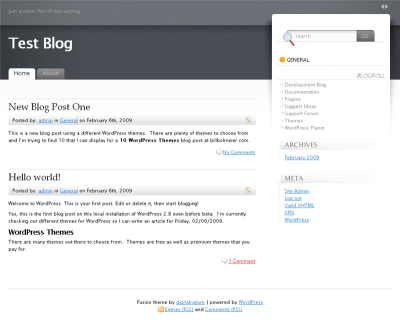 Click image for larger view
2.  Are you blogging about Vista and want a WordPress theme that looks and acts like Vista?  Well, here it is – Inanis Glass.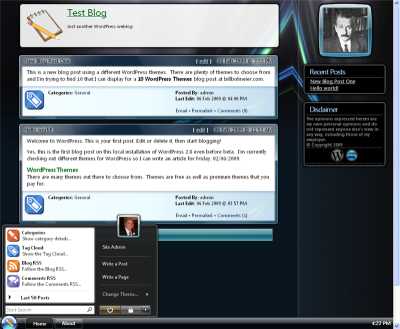 Click image for larger view
3.  I love the grunge look.  Here's another free one from the WordPress Theme Directory called Elegant Grunge.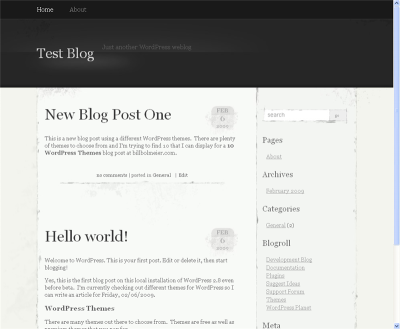 Click image for larger view
4.  Here's a theme giveaway for the Retro Hero Theme.  Comment at this blog post and you'll have a chance to win the theme (Deadline 2/7/09).  If you just want to buy it, it's only $25.00.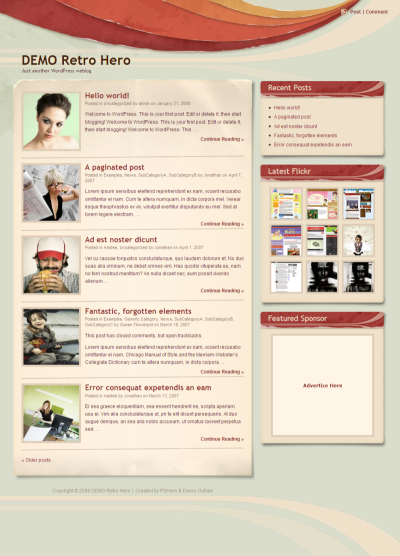 Click image for larger view
5.  Don't forget about the themes from Brian Gardner, creator of the wildly popular Revolution Theme and a new theme that I like, the Agent Theme.  Check out Brian's themes at Revolution Two.
6.  Here are some free themes from Woo Themes.  They also have some nice premium themes as well.
7.  Beautiful and inexpensive themes at ThemeForest.
8.  Two new themes by Smashing Magazine called Vintage and another called Blue.
10.  Thesis Theme – Thesis made a huge splash in 2008.  It continues to evolve and get better.  But, all we need, and I say we because this blog is running on the Thesis theme, is a group of designers specifically for Thesis since everyone running Thesis pretty much looks the same.  But hey, that's okay.
Thesis has an incredible support forum and a free add-on called OpenHook, where you plop some code in places where you need it.  No need to edit a bunch of files and figure out where to put custom code.  This functionality is provided by the hooks in the thesis theme.
Here's a recent write up of the Thesis Theme – 9 Reasons to use the Thesis WordPress Theme.
Click on this twitter search link and let it sit in your browser all day, most likely you'll find some good resources on WordPress Themes – http://search.twitter.com/search?q=wordpress+theme