This is a guest post by Kit Pierce. If you want to guest post on this blog, check out the guidelines here.
Facebook is introducing a new design to every profile in their network of 750 million people and counting. It's called Timeline, and fortunately for business owners, the change will be more helpful than frustrating.
Starving artists, Smartphone repair shops, and car dealerships alike will benefit from Timeline's introduction, particularly when it comes to marketing. Regardless of what your business is, Timeline contains new features you'll be able to take advantage of.
Signage
Every Timeline profile begins with a banner that spans the entire width of the browser. It's an image of your choice and it's called the cover photo. Here you have a free billboard for promoting your latest sale, the hottest trend, or funniest ad in your campaign.
Put something in your cover photo that immediately grabs the attention of your audience–it's the first thing your buyers and clients will see.
Content Presentation
After being lured in by the cover photo, whatever is immediately visible in the content of a page will be the next thing a customer looks at. Most people skim pages rather than read them, and Timeline's layout does a great job of displaying updates that are eye-catching and relevant. It also makes it easier to find older posts than before.
If you post frequently, you'll have a living, breathing profile, which prevents the consumer attrition that results when you leave a page dormant for any length of time. One more thing, you can and should mark the most important updates with a star, which lifts an update closer to the top of the profile and makes it easier to find.
Contact Information
We all use Google to find contact and address info when we need a lawyer or a bite to eat, but even the world's best search engine occasionally produces questionable links. Instead of searching through some murky, ad-infested yellow pages site, a consumer can now head to your Timeline profile, where your contact information is right below the banner.
Your customers will easily find your address, email, and phone number at the top of the page. Take advantage of this area by keeping it updated and simple. Everyone Googling you will appreciate it!
The Timeline
Most businesses operate for years before gaining recognition. The namesake feature of the Timeline redesign gives you an easy way to record and display the ups and downs along your journey to the top. In the right hand corner of each profile, you can place a breakdown of all the years since the creation of your business. By clicking on an individual year, users can view photos and updates from that particular year.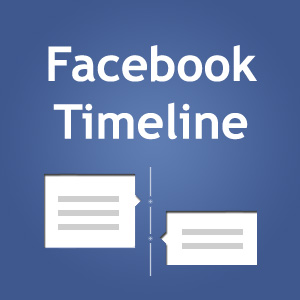 Seize the opportunity to include some interesting material here. Apple, for example, has over a million Facebook Likes, and with Timeline, they can tell you who they selected as their eight biggest fans in 2010.
Popularity
Previously, a business profile sported a title and a button at the top for collecting Likes–nothing else. With the new layout, links for your YouTube channel, your blog, Twitter, additional content, and whatever else you use for the cause of marketing have been conveniently relocated to the top of the page.
Fill this area with all of your promotional tools. Here you can provide a link for a Fan of the Week page, exclusive downloadable content, or related videos and photos with visual appeal. There are dozens of ways you can use this space, but you have to be creative.
If you use Timeline the way it ought to be used, you're going to get a lot of mileage out of the new layout. Just remember to use the right imaging for your audience, and to learn from the Timeline profiles of bigger companies. They can provide you with a lot of good ideas, even if you're only selling fish bait. If you haven't adopted the new layout yet, post some of the ways you plan on using the new Timeline below.
About the Author – Kit Pierce loves to read classic literature and blogs about human rights. In her spare time, she writes for attsavings. She's interested in steampunk, likes watching funny cat videos, and enjoys discussions about philosophy.