This is a guest post by Marcela DeVivo. If you want to guest post on this blog, check out the guidelines here.
Boosting your website and increasing your site visitors is possible by getting creative and utilizing free communities and applications online to share your brand and help with gaining loyal followers and visitors as well.
Consistently Updating With Relevant Content
If you are running your own website, it is essential to consistently update to ensure you continue to receive visitors and page views on the site throughout each day and month. Add relevant tutorials, how-to guides and information articles that are relevant to your website.
As part of Google's ranking algorithm, they check for a content update ratio, so if you are not creating content regularly, you will receive a low score for the update ratio. Additionally, relevant content keeps people coming back to your site, and as Google also utilizes traffic and return visitor ratio as part of the algorithm, creating quality content affects your ranking bottom line.
Host Guest Blogging Spots
Host guest blogging spots on your site to attract new visitors while offering honest advice or information from a well-known figure in the industry. This allows you to potentially gain followers from fans of the guest blogger as well, giving you another way of increasing visitors and page views overall.
Designing Your Own Infographics and Getting Creative With Internet Marketing
Infographics are a fun and catchy way to present information with the potential to go viral. Especially these days with Pinterest and other "pinning" services popping up like weeds, creating Infographics is a way to get noticed. Beautiful and creative graphics with interesting information are fun and easy to share, helping the image to go viral thus increasing your links and traffic.
Giveaways and Contests
Host giveaways and contests on your website to draw in new visitors, offering items and products or services that are also relevant to your own site. People LOVE giveaways and the opportunity to win something free, so they will be more willing to participate and to share in order to gain votes and a chance to win.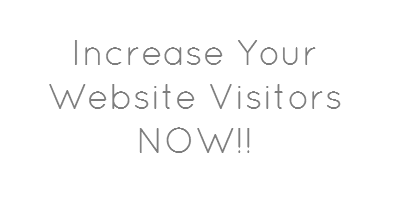 Using Social Networks to Market for Free
Using social networking communities is a vital part of marketing websites and brands to increase visitors and web traffic overall. Create accounts for popular networks such as Twitter, Facebook, and even the fast-growing Pinterest. You can add your logo to help with building brand recognition while you have the ability to instantly update all of your fans and followers online to share new products, sales, and services, which will help to draw visitors and page views in.
Share and Bookmark your Content
There are many sites that allow you to share how to information and to bookmark pages. Develop a list of these and start sharing content on each of them. Some examples are wikia, instructables, squidoo, ehow, and many more. The key for these is to make sure when you add links to these sites, that your links are DoFollow links. Additionally, the value of these pages is based on whether or not they are linked to, so use your own profiles to link to other profile pages thus boosting your overall brand.
After Google's latest ranking algorithm, they upped the ante, making it more time consuming for webmasters to gain visibility. To stay ahead of the game now requires more effort and time. If you create sustainable goals and start working on the campaign slowly and surely, over time you will find that you created hundreds of new links and you'll be rewarded by the increase in visitors to your website.
About the Author – Marcela De Vivo is a social SEO that has been in the internet marketing industry for 12 years. She writes about Industrial Solutions for Process Sensors Corp and blogs at MarcelaDeVivo.com.