If you're writing blog posts in the WordPress editor and you're not fond of it for any reason, here are 3 blog editors that work very well as alternatives.
1. Windows Live Writer

Windows Live Writer is a nicely built piece of software from Microsoft for writing blog posts. It is a Windows program that you install on Windows and run it on your local machine.
With Windows Live Writer you can add quite a few different types of blogs including WordPress, Blogger, LiveJournal and Typepad to name a few.
Live Writer will pull in parts of your theme so you can identify what blog you're working on.
With typical features of a rich-text editor and the ability to save blog posts locally (which is nice for offline work), Windows Live Writer is a blog editor that is extremely helpful to the novice because of its familiarity as a Windows editor and simple but feature-rich interface.
2. ScribeFire

ScribeFire is a blog editor that comes as a Firefox add-on. When you install ScribeFire you'll be able to press F8 and up pops a full-featured blog editor on the lower part of your browser.
You provide your blog name(s) and ScribeFire reads in your blog posts, and lists them in an Entry list.
ScribeFire has a rich-text editor that allows for multiple posts to be edited at the same time in a tabbed window.
The handy part of ScribeFire is when you're doing research on the internet and you have a blog editor right there that pops up to write notes about your research, drag images or text blogs right into the editor.
3. Flock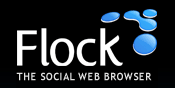 Flock is a social media browser I've talked about before. It has a blog editor built-in.
The Flock blog editor can publish blog posts to various blogging services including a self-hosted WordPress blog.
The editor pops-up in a browser window that looks like a Windows application but is still in the Flock browser.
It features a Web Clipboard that you can drag and drop text and image you are working with in your blog post and save them for later use in other posts.
Flock's blog editor is simple and good enough to get the job done.
Note: You can install ScribeFire under Flock and you'll have two editors in Flock to choose from.