Here are 7 cool web tools to help you with your web work.  From creating online diagrams to an online business card for the web to good old bookmarking apps, a blogging platform and more.  Enjoy!!
1. Creately

Creately is an online diagramming tool I used recently to replace the diagramming stalwart Microsoft Visio.  Although Visio has been around forever and contains many tools to get the job done and much more, you might not want to plunk down the dollars it costs.  Besides, it might be over kill for hat you're trying to accomplish.
You can create typical flowchart diagrams with Creately's built-in flowchart objects as well as network diagrams, organizational charts, sitemaps, and more.  All these diagrams have objects that you can drag around on your diagram, tweak and design.
A very cool feature of Creately is the online collaboration, sharing and export features.  You can allow your colleagues to collaborate on a diagram, send it to twitter, export it to an image, embed it, email it, link to it, as well as export it as a pdf.
2. Card.ly

Wouldn't it be cool to create a web-based business card?  (Yes it would Bill, tell us how.)  Well, browse on over to Card.ly and start creating one.
Card.ly walks you through a 5-step process to create an attractive online business card:
Select from a bunch of different social media sites where you hang out at and want people to find you.  Just pick the site and enter your name for that site and Card.ly will build the link automatically for you and verify it.
Enter your personal details that you want to share with people like your website or blog, your birth date, gender, an avatar, your location, a short bio as well as a long description and other data you might want to share with folks.
Pick from a gallery of excellent designs.  If you're a premium member you'll have more pro design choices.
Step 4 allows you to tweet your new Card.ly online business card.
You'll also be able to grab embed code or link code to place Card.ly on your website or blog.
There is a premium membership that allows many other features incluing removing the "nofollow" attribute to external links.  This is cool because by removing the "nofollow" attribute you'll get some link juice from the search engines via the Card.ly website.
Here's my Card.ly card.
3. Evernote

Evernote is a bookmarking web app on sterioids.  I continue to use Google Notebook and have for a long time but since they stopped allowing new users to join, well, I'm pretty sure one day Google Reader will be history, so time to find a replacement.  Evernote really fills the bill and more.
Once you create an account you'll be able to drag the Evernote Bookmarklet to your browser's bookmark toolbar.  Then, when you find a website or part of a web page for instance, you'll be able to click on the Evernote Bookmarket "Clip to Evernote" and the page will be saved for you or the selection of a web page.  You'll be prompted for additional information you can provide as well as select how the clip displays in Evernote.
There are so many features including excellent mobile support that it's best to read about them on their What is Evernote? web page.
4. Instapaper

Instapaper is minimalism.  And that is good.  A bookmarking app, Instapaper works by first creating an account and dragging their bookmarklet to your browser's bookmark toolbar.
Whenever you want to quickly bookmark a web page, you click on the "Read Later" bookmarklet and Instapaper flashes a small, unobtrusive window that opens up and simply says, "Saved!" or "Updated!".  That's it.  Later you can go and read your bookmarks in a simple list at the Instapaper website.  As you read them they will automatically move to archive.  You can also categorize your links into folders you create.
5. Google Mobile

Google has so many cool apps that it's almost hard to experience them all.  But what I've found recently and used is the Top Search Trends which has been around for awhile and now you can also get it on your mobile phone that allows you to browse the web at http://www.google.com/m/trends
What can you do with Google's Top Search Trends?  Well if you're an internet marketer looking for what's popular then Google's Top Search Trends could be something to watch and use in your marketing efforts.  Need a topic to blog about and want to write about something popular?  Use Google Top Search Trends.
Also, on the Google Mobile radar is their Google Mobile page in your browser as well as their mobile apps page on your phone.
6. Posterous

Want to start blogging but don't want to go through the hassle of registering a domain name and all the stuff you have to go through that involves setting up a self-hosted blog?  Check out Posterous.
Posterous is a very popular site that allows you to blog by sending email to your account at Posterous as well as creating a blog posts at the site.
There's also a built-in image gallery if you send images attached to an email, and that includes images sent from your mobile phone.  If you can send email with attachments from your phone, then you can create an image gallery that includes thumbnail images of your larger images.  See an example below.
These are some of the background images I have on my Palm Pre.  So I sent them to Posterous via my Pre to see how they looked in the gallery.  There's also a command you can include that will just list the images and not put them in a gallery.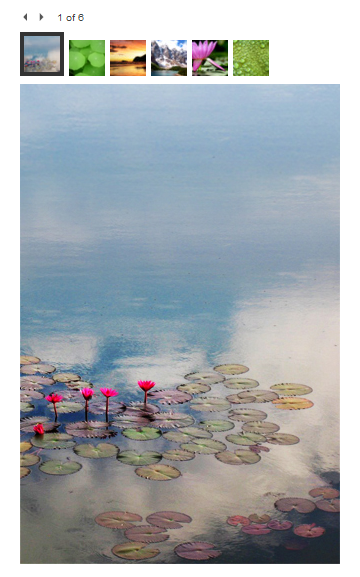 7. Dropbox

Last but not least is Dropbox.  With Dropbox you get 2 GB of space for free that allows you to sychronize files between computers.
Once you install the necessary software on your computer, you'll get an icon in your taskbar that resemble an open box and you can start dropping files in there.  It also creates a "My Dropbox" folder by default under your "My Documents" folder in Windows.
You can use Dropbox as an online backup tool or share photos, documents, large files as well as track and undo changes to files.  Very handy.  You can pay for more space as well.