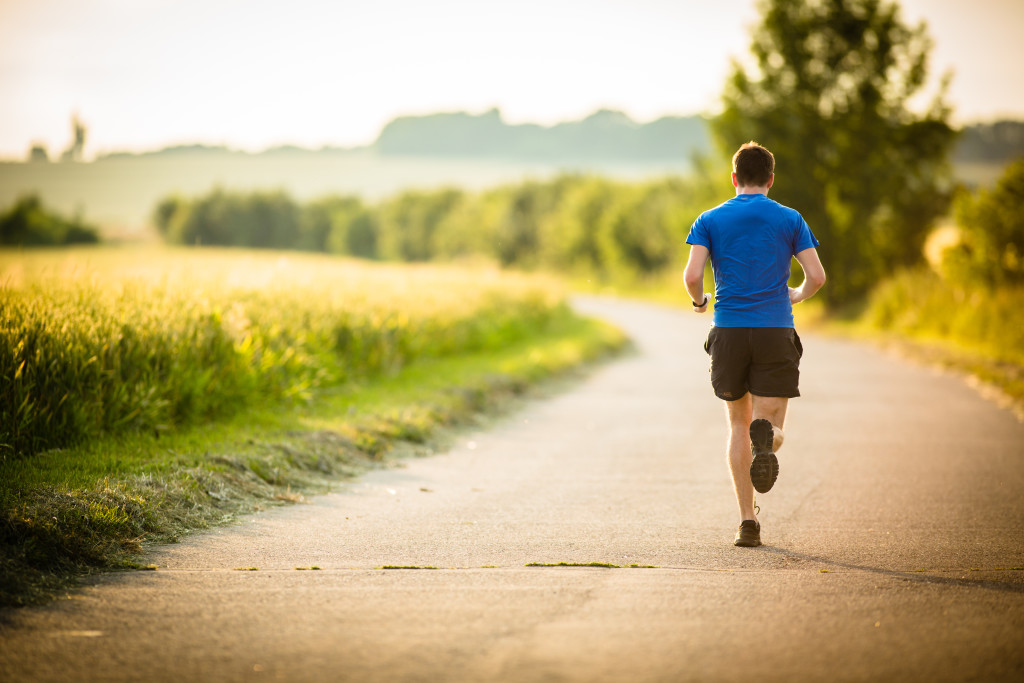 Here's a list of best advice on running your first half marathon in 2016 from people who've run half marathons.
I compiled this list from my Instagram page after asking my readers to give me their best advice on running your first half marathon.
Here's a link with the question I posted. The folks on my Instagram page were great and provided a bunch of comments and advice on running your first half marathon.
I've provided the information below with links to each runner's Instagram page.
So give them some #InstaLove by visiting their page, liking, commenting, and following their page.
Patience and run the mile you're in. One mile at a time.
Never ran half marathon would love too but my bit of advice is SMILE
Don't start out too fast and have fun 🙂
Train hard whatever the distance! It's ur foundation. One step at a time. Nutrition!??
Keep yourself continously hydrated 4 weeks prior to race
Run the first 3 miles slower than your regular pace. Your confidence w soar as you realize how much is left in the tank the last 3 miles. Also have a mantra such as "just keep moving" to get you thru those moments when it might feel tough. Those moments pass and you're back in your rhythm. P.S. The Half is my favorite distance! ??? Embrace the Challenge!! ?
If they download the Nike running app there is a training option for half a marathon according to your level it tells you what should you be training every day to achieve your goal.

Always remember to warm up and cool down correctly and progress gradually * also have rest days because if you develop shin splints it can delay your training #happenedtome?

Also strength training for abs and legs did me well, i felt lighter and stronger >> went longer without getting tired in those areas. Breathing is also key to pacing and energy for muscles. Two breaths in two breaths out at a time if they want to control breathing and avoid cramps
Practice fueling during long training runs so you know what works for your gut on race day. And, once you hit mile start counting DOWN the miles instead of up (only 6 more to go, 5, 4 and so on) always helps me stay mentally strong ? Have FUN!!!
Don't go out too fast. If you sprint the first part of a 5k you only have to huff through a mile or two, but if you burn out at mile 4 of a half you have a long way to go on an empty tank. This is always my first piece of advice to new distance runners.
You don't have to win.
Remember to soak up the amazing atmosphere – especially at the finish. This means removing headphones for the last mile!
Be sure to train for the course. If it's hilly, do some runs on hills. If it's a net downhill course, do some long downhill runs. If it's on mountain trails, run mountain trails. You get the picture.
A comfy One size larger running shoe!!
One mile at a time. Hydrate at each opportunity during race. Know you ROCK!!! You CAN do it. Some Vaseline under arms helps when you get up in higher numbers. Relax as much as possible-do a full body check every once in a while. Try and enjoy 🙂
Go like hell and never look back
Remember Negative splits!!! Don't come out going balls to the walls it's 13.1 miles after all!!!
I don't recommend mixing energy fuels. If you start with gels, only use gels.

And DON'T try anything new on race day!!!
half marathon is perfect distance to race hard, I don't recommend using any energy gels, just drink the Gatorade they hand out for carbohydrates.
Honestly, it's pretty much like this:

Step one: start running

Step two: finish
Crucial: Go to a running store to get the right shoes for your feet, learn good technique, explore quality foods that sit well with your tummy, and listen – trust – your body. #RunFree

*to. Oh and most importantly #MyRaceMyPace 🙂
Go for negative splits. My half PR is one that I successfully ran negative splits. You'll be amazed at how many people you pass in those last few miles who are spent because they went out too fast.
Make an epic playlist that crescendos at the end.
Equal splits. Find a nice ass and follow it.
@ryanwynnecook that's hilarious. I'm totally doing that for my next race!
Take your training runs slow. Don't over think it and enjoy it. Trust the process and know that if you have followed your plan your set up for success. First race is just about finishing. Then you can go from there and push your pace and chase PRs!! #goodluck
Start out with a goal, whether it be just to finish, not walk, or run negative splits etc… I like to run how I feel, I ran my half marathon PR by starting out at a sub 18:00 5k, but I kept my splits faster than the time I had set in my head. I wouldn't recommend everyone trying to start that fast, it's 13.1 miles so remember you're going to be on your legs for at least an hour so while there is room to slow down here and there make sure to remain focused the whole time ex: running 7:30 for six miles and then running an 8:30 will be very hard to recover from, but if you drop 10 seconds or so you can probably recover that time over the next few miles.
If you can run 15 km you can 21,1
My whole family was against me running a half- but, thanksgiving came and i had to train so half of them came with me. Anyway, to the real stuff. You have a ton of time to run by yourself aka training. But, find yourself a running buddy for race day it makes everything more awesome. Have your family of significant other meet you at the half way point it will put a little more pep in your step. Don't be afraid to stretch. If you can run 9 miles you can run 13.1. The last .1 mile will be the longest time ever. Do not try out new running shoes on race day even if your training shoes have no more support. Take it all in. It's your first race! You made it! Finishing is a bonus. And eat a lot of food after the race…really, a lot.
Start out slow, then go slower and let your body dictate what pace you should run at, use your watch/app as a guide, do not become focused on it. Most of all enjoy your surroundings and just tick the miles off as they pass. #GooddLuck
A lot say drink a lot.. I actually think that being well hydrated before the run and then drinking a little less at the run works better for me. If I drink when I don't need it I will get side stitches. A good marker for me if I drink too much and need to drink less is if my fingers get swollen. If they do that I have too much water in my body and need to sweat some of it out. Could also be because I need some salt but that's more in longer than half marathons. Anyway. Except take it slow in the beginning my best advise is drink, but not too much and use your fingers as guides to weather or not you need more fluid. @billbolmeier I would be grateful for you mentioning me or giving credits. And btw I love your posts about all the different trail runs. Very inspirational. I save some for my bucket lists once in a while.

*whether (not weather)
Great advices guys! This will be helpful and for me the next race?
Split your 21k into 3. Think as if u are running 7k . So it will mentally help you to make it easier n more fun. You can also increase your speed in ever 7k 🙂
@k.isrunningdownadream ahh this is great!! Thank you!!
This may seem ridiculous, but if you are a woman…invest in a good sports bra. Short distances aren't as important but after you have run about ten miles you will be glad you invested in a better bra.
@line_kolbe thank you!!! My fingers used to get SO swollen. I've been so concerned about dehydration I've been over doing it. It makes sense though. The true test will be on my long run this weekend but my fingers were much happier on my 9 miler today. Thank you!
@fillizof perfect advice! That instantly made the thought of my first half seem less overwhelming?
I'm glad that it worked for you as well @michiec05 keep it up!
Invest in some shoes that offer good sole support while you train. I just bought Asics Gel-Kayano 19 that was $150.00, which is the most I've ever spent on shoes, but it's worth it when you think of all the miles you put in and the injuries prevented. In fact, when I first bought the shoes I was experiencing the start of plantar fasciitis pain in my arch but the arch support was a saviour. At first, I was so overwhelmed with the selection but I tried on 3 different brands but the CSR was very helpful and knowledgeable (i.e. look for shors with plastic built into the bottom exgerior for arch support). There really is a science behind shoes built for long-distance running. However, shoes aren't everything when it comes to preventing injuries like PFPS (often referred to as runner's knee) and Iliotibial Band Syndrome (ITB). These injuries can be prevented with glute, quad, and core strengths exercises in addition to the sole supportive shock absorption shoes. I personally try to do those exercises every other day. Running my first charity half-marathon October 3rd and I'm nervous too but I have 4 months training behind me so I hope it pays off. My suggestion of what to eat two days before for a carb-load dinner: sweet potato peeled, diced and microwaved for 5-6 minutes then add black beans (from the bag that have been soaked overnight then cooked on the stove top prior) to the mash then pop back in microwave for 1 more minute then take out and add diced red bell pepper and diced tomatoes with black pepper & sea salt (cilantro or Daiya "cheese" optional). Enjoy and all the best everyone ?!!! >credits accepted <
Trust your training!!
Hi Bill. As an ultrarunner and run coach, I hope I can add something to the story. First of all: relax. Breathe. Forget the competition if you want to finish your first 21k. Most runners are too focused on time/distance. Remember it's a choice, a hobby, so enjoy. Secondly, be sure you drink enough. But don't overeat. Also, start slowly and run negative split if you can (faster 2nd half). When you feel too tired, slow down but don't stop. Always think positive. Stare in the distance and enjoy every encouragement. Run with your heart!
I read all the comments and those were all good advice. Thank you! I'm running my first half marathon in Long Beach in October and I'm excited so this was very helpful!
One of the greatest pieces of advice I've ever gotten on running ANY distance is that, as you're out training and running those lower miles, just remember that that distance and that slight discomfort and beginning exhaustion you are feeling is NOTHING compared to the distance you need to be able to do.

It's a little daunting, but if you're having trouble focusing as you train, keeping that "the race will be longer and tougher than this training run" thought in your head will make you feel more prepared on race day. Also, if you're agonizing over each mile, then start to think in terms of 5ks: one 5k down, three to go (and then a little bit more).

And as you're out there running your first half, think about this: what if you ran a full marathon one day? Wouldn't that be awesome?! Okay, so think about this: as you're out running your half marathon, imagine if you were actually running a full marathon. "I'm on mile 9, feeling okay. But if I were running a full marathon, I'd have to do this three more times."

I've been using that mindset in training for my own full marathon next month and it's been crazy helpful. Just take it slow and steady — don't worry about keeping up with the other runners as they jet off at the beginning of the race; like@voorvoetlander said, start slowly so that you can run a faster second half if you can.

Most of all, think about how incredible it is that you're pushing your body to a new limit! Consider what your past self would say if he/she knew you were about to run a half. "What?! I'm going to do that in my future? How crazy awesome! I rock!" You do rock, don't forget! 🙂
My Two Cents
I've run a few half marathons and have experienced the anxiety that comes with preparing and running your first half marathon.
I remember mine well. I agree with a lot of the information and advice above.
You can find some great half marathon training schedules on the net if you just "Google It".
I used the half marathon training for novice 1 at Hal Higdon's website. It worked well for me.
I like skipping the water/energy drink at the first aid station if it's within the first 1-3 miles.
I try to do half marathons on water only. I don't like drinking something at every aid station. You might need to experiment with this during training.
When you do drink at an aid station, stop. Say hi to the aid station workers and thank them.
You can alternate water and energy drink at every other aid station. Something you might experiment with.
Train and run the race with friends, it's a ton funner.
Look at the elevation map of the race if you can. I had a hill on my first half marathon at mile 9 and it killed me. Had to walk half of it.
Enjoy every mile and the people you're running with and the people around you.
Eat and drink the free food at the end of the race.
Take pictures at the end of the race for memories.
Celebrate with friends after with lunch or dinner later that day. Talk about the race as much as you need to. It's fun.
Keep your bib for your personal history. Hang 'em up. Store them, etc. It's fun looking back and your kids will love it when they find them, as well as your grand kids.
Sign up for the next half marathon or your first marathon. 😉
Good luck and HAVE FUN!
Feel like adding to the conversation? Do so over on the first half marathon post on my Instagram page.