Here are my blog stats for April 2009. I haven't posted anything at this blog since April 6. But the stats for April are a good example of traffic going up when you're not even posting to your blog. Google's search engine starts indexing stuff more and more at your blog which helps drive more and more traffic – which is a good thing. 🙂
Goals and Expectations
In April I stopped posting here at billbolmeier.com to go help start a twitter blog and test some twitter stuff.
My Bounce Rate has gone from around 50% to over 60%. Again, Bounce Rate is when someone lands on your blog and takes off. Reading into Bounce Rate could mean the visitor didn't find what they were looking for at your blog, found that one article they were looking for and left, or they just don't like what they found at your blog.
The average time a visitor spends at my blog has dropped from around 6 minutes to just over 2 minutes according to Google Analytics. Gotta work on that.
Overview
Interestingly, April was a month that saw over 100 unique visitors a day. That's pretty darn good for not posting.
Awstats
Here's a snapshot of my Awstats summary.

As you can see, Awstats reports that I had 1,413 unique visitors, up from 988 in March 2009.  Again, one of my goals for this blog is to reach 1,000 uniques a day by the end of this year – December 31, 2009. That's big and might be unrealistic considering I am not a full-time blogger.
Another goal is to hit 100,000 page views a month as well. Page views is listed under the Pages column in the summary.
Here are the daily numbers for April 2009 as reported by cpanel.  Remember, cpanel over compensates in my opinion.  In other words, these numbers are a bit high to be accurate.  But it always feels good to think you're getting that many unique visitors a day, especially if it's growing.   🙂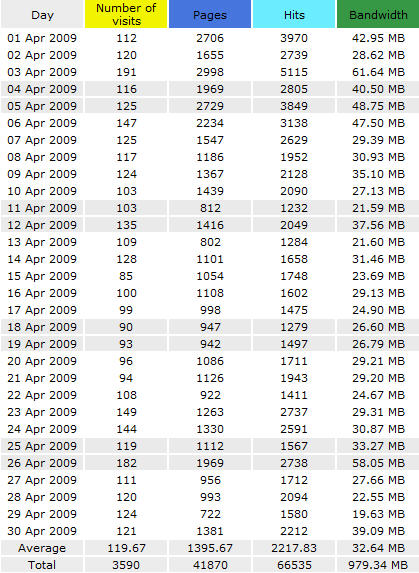 Subscribers
I don't have a nice charts for April 2009 since I can't seem to go back before 30 days ago, so I can say my RSS subscribers are hovering around 25.  I haven't done anything specific to pull in more subscribers. Just a normal call to action at the end of each article.
Traffic
As reported by Google Analytics.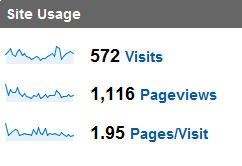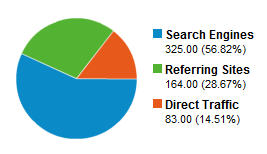 The pie chart above shows a split between referring sites, search engine traffic and direct traffic. Referring sites are sites that have a link pointing at my blog and people have clicked on that link, ending up at my blog.
Search engine traffic is a result of folks searching on keyword(s) at Google, MSN, Yahoo, etc., and they end up at my blog because the search results showed pages from my blog and they clicked on the link.
Search engine traffic increased from 40% in March to over 55% as you can see.  Increasing your search engine traffic organically is normal.  Even though I did not write anything in May and hardly anything in April, search engine traffic takes over and becomes the biggest driver of traffic if you don't work on growing your referring sites or your direct traffic.
Direct traffic is traffic where folks are coming directly to my blog by typing in the address of my blog billbolmeier.com or they have it bookmarked, etc.
Inbound Links
The highest linked to article on my blog is How to Run a Twitter Contest. This article ranks in position #1 in Google for the keywords "how to run a twitter contest" without the quotes. That's what folks are typing into Google to search for.
Keywords
Google sent 325 visitors to my blog by 207 different keyword searches.  That's up significantly from March 2009.
Best of April 2009
There were 99 pages viewed a total of 1,116 times. Here are 3 blog posts that received the most page views for April, 2009.
Onward and upward. For June it's continued traffic growth, comments, writing an ebook, working on a couple niche sites, and categorized advertising. These are some of the tasks I'll be working on for billbolmeier.com in June, 2009.