These are my blog stats for February 2009.
Goals and Expectations
I continue to write an article a day and my traffic numbers are going up and staying fairly balanced between search engine traffic, referral traffic and direct traffic.
My Bounce Rate is around 50% which is okay with me at this point.  Bounce Rate is when someone lands on your blog and takes off.  Reading into Bounce Rate could mean the visitor didn't find what they were looking for at your blog.
The average time a visitor spends at my blog is around 7 minutes, so that's not too bad either for a new blog and the time that I've put into this blog.
An just for review, Search engine traffic is where someone searches on specific words or phrases in the search engines like Google, Yahoo and MSN, (the big three) and your web pages are returned as results in those search engines.  People click on those results and end up at your site.
Referral traffic is either from sites that have linked to you either through the fact that you commented at a site and left a link to your blog as part of the comment or someone discovered something valuable at your blog and they've linked to that or those articles.  These could also come from social networking sites like Twitter and StumbleUpon as well as many other sites that are linking to a page on your blog.
Direct traffic is where someone has come directly to your blog because they want to.  Whether that's because they've subscribed to your blog and clicked on a link from their email or their RSS reader, or typed in http://billbolmeier.com in their web browser or have you bookmarked.  Whatever a visitor did, their intention was to come to your blog – direct traffic.
Overview
February was  a month to produce articles as was January, and will March will be. Articles that includes list type articles, tutorial type articles, opinion type articles and any other type of article that best represents this blog and what I want it to be.  I'm looking at putting up some YouTube videos that are tutorial screencasts in nature.  Possibly some audio on a blog post or two.
One task that I've not spent a bunch of time at is to provide meaningful comments at other blogs and social networking sites.  In other words, not being too social.  I'm chalking it up to a lack of time, but I've always believed and seen the results that the more social you are, the more visitors and comments you get at your blog.  So that's an area I'll focus on more as well.
The Community Blogger
The thing about running a blog with the intention of building a community around it, is that it involves communicating.  If you're trying to start a blog on that premise, I would strongly suggest communicating first by leaving meaningful comments at blogs in your topic area and hanging out in social networking sites or fourms where people talk about that niche or topic area.
If you've started a new blog I would concentrate on building your reputation with others before or parallel to writing your own articles.  Once you've built up a reputation, then others will be more willing to check out your blog, comment at your blog and give you some great feedback.  That's one way to do it, if you're thinking about starting a blog that you want people to hang out at.
The Weekly Blogger
I know of at least one successful blogger (someone who makes a living at it) who's built a large community around her blog by writing one long (2,000 to 5,000 words), informative article a week and socializing during the week by commenting on other blogs and hanging out on social networking sites communicating with poeple.  Doing this has helped her build traffic back to her blog with those long but informative articles.  Traffic that has turned into faithul followers and readers.
So for March 2009, it's more useful articles, videos, audio, maybe start a niche site or two and let them start baking on the web waiting for search traffic to arrive.  That's what type of traffic you want niche sites to attract, search engine traffic because that type of traffic is usually people looking for something or an answer to a question or solution to a problem.  And by niche sites, I mean a specific topic that contains a smaller, more focused topic.  The goal with niche sites is to get traffic, get an email opt-in and/or sell something.  So we'll see.
One thing I did in February is consolidate categories.  For instance, I had WordPress Plugins and WordPress Themes categories, so I consolidated those two categories into the category WordPress.
Also, one thing I've noticed is when I Google my last name – bolmeier, my blog billbolmeier.com doesn't show up at the top of the search engines anymore.  I'll have to spend some time and figure out why.  Either changing the categories, screwing around with my Thesis theme options and the SEO settings, or ticking someone off caused it.   😉   We'll see how long it lasts and how long it takes to get that back.  It's something I'm not going to look too deep into because I don't really care how well my last name gets indexed by Google or other search engines.
Awstats
Here's a snapshot of my Awstats summary.

Click image for larger view
As you can see, Awstats reports that I had 1,105 unique visitors for February 2009, up from 775 unique visitors for January 2009. My goal for this blog is to get 1,000 uniques a day by the end of this year – December 31, 2009. That's big.   🙂   Another goal is to hit 100,000 page views a month as well. Page views is listed under the Pages column in the summary.
Subscribers
Here's a chart of my Feedburner subscribers for February 2009.

I did not do anything different to pull in more subscribers.  Just a normal call to action at the end of each articles.  I'd say it's stagant for sure and in March I plan to do some specific tasks to increase my subscribers.
Traffic
As reported by Google Analytics.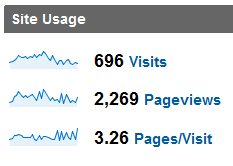 Click on image above for larger view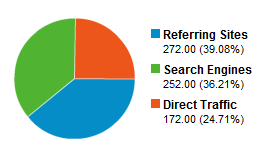 The pie chart above shows a split between referring sites, search engine traffic and direct traffic (see explanation at the beginning of this article). At this point I'd like to see more direct and referring traffic and as mentioned above there are specific tasks I can do to increase that.
Inbound Links
Google Webmaster Tools reports a total of 1,046 external links to various pages on my blog with 40 links to my article Six Blog Traffic Tracking Tools.
Keywords
Google sent 252 visitors to my blog by keyword searches – 108 different keywords.
Here are some of the keywords from Google Analytics that people used in search engines that brought them to my blog. All of them are related to the content at my blog.
tweetdeck commands
4 screen on 1 pc tool
how to run a twitter contest

add google docs my website

how to run a contest on twitter

These are just a few keywords that brought folks to my blog. Using Google Analytics allows you to see all the different keywords that Google saw people search on and landed on your blog.
Best of February 2009
There were 211 pages viewed a total of 2,269 times. Here are 3 blog posts that received the most page views for February, 2009.
Onward and upward. For March it's traffic growth, comments, looking at creating an ebook, adjusting some of the aesthetics of the blog. These are some of the tasks I'll be working on for billbolmeier.com in March, 2009.
Photo Credit: Steve Weaver