I registered the name billbolmeier.com in November, 2008 and made a couple of posts. I started blogging in January 2009 with the intention of writing 2-3 articles per week but I took a liking to writing, so I wrote an article a day.
Goals and Expectations
One goal for starting this blog was to write as many articles on the weekend as possible and have them automatically go out over the week. You can do this with the timed publishing feature of a self-hosted WordPress blog. You just queue your blog posts up and tell it what date and time to publish the article for the whole world to see and it does just that.  Voila!!
And with any new blog, the goal is typically to create content in the beginning. Content that includes list type articles, tutorial type articles, opinion type articles and any other type of article that best represents what you're trying to do at your blog.
As this blog progresses and as I discover other blog writers who publicize their blogging statistics and goals, I now have a few more goals to shoot for, namely to increase traffic and subscribers to my blog and more commenters.
As I progress through the month of February 2009, I'll certainly try and report on what I'm doing to meet those two goals. But they will include typical, proven tasks that have worked for other bloggers like promote my blog posts with social media, commenting on other blogs, etc.
Awstats
Here's a snapshot of my Awstats summary. Awstats is a program that comes bundled with many web hosting sites and it keeps track of various numbers about your site.
I believe Awstats inflates numbers, or at least I don't know everything that goes into how Awstats reports its numbers. But it sure is nice to watch, because it makes you feel better about your traffic, which always helps in the beginning.

Click image for larger view
As you can see, Awstats reports that I had 775 unique visitors for January 2009. My goal for this blog is to get 1,000 uniques a day by the end of this year – December 31, 2009. So I've got quite a ways to go and some strategisin' to do . Yet another goal is to hit 100,000 page views a month as well. Page views is listed under the Pages column in the summary.
Subscribers
Here's a chart of my Feedburner subscribers for January 2009.

Reminds me of the stock market lately. 🙂 But, subscribers is something I can work on, and again will report on how to increase subscribers during the month of February 2009. The focus in January 2009 for my blog was to create content.
Traffic
As reported by Google Analytics.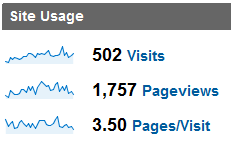 Click on image above for larger view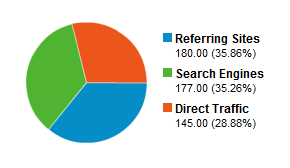 The pie chart above shows a nice split between referring sites, search engine traffic and direct traffic. This is what I'm shooting for so far.
Referring sites are sites where your blog or blog posts are listed at the referring site, and people on the referring site click through and end up at your blog.  Thus, one reason to comment on your favorite blogs or blogs that are in your niche.  Commenting at blogs is a way to build community around a blog.
Search engine traffic is where people type in keywords and keyword phrases that end up showing your site as a search result and those people actually clicked on the search result that brought them to your site.
Direct traffic is a result of people coming directly to billbolmeier.com by typing that into there browser or from their bookmarks..
However, if you were setting up a niche site that you wanted to make money with, you'd want to see a lot of search engine traffic. You would want to shoot for ranking on page one of the search engine sites, also known as SERPs (Search Engine Results Pages), which would bring traffic to your niche site by way of keywords and phrases that people search on. A niche site is a site that you try and sell widgets or some other product or service on.
Inbound Links
Inbound links are links to my blog or blog posts from external sites.  Google Webmaster Tools is a site that helps you track various attributes of your blog or website. You add a bit of code to your website or blog and Google sends the Googlebot around to collect data and report on it.
Google Webmaster Tools reports a total of 174 external links to my blog with 24 links to my article How to Run a Contest Using Twitter.
Keywords
Google sent 177 visitors to my blog by keyword searches.  I have a feeling I forgot to add my blog to Yahoo and MSN search engines when I started it.  I keep pretty detailed notes about what I've done and I think I overlooked those two tasks.
Although Google is king, Yahoo and MSN will send you traffic based on different keywords and search parameters.  Those three search engines, Google, Yahoo and MSN are pretty much the search engines to try and impress.  Other search engines might not be necessary to go after since some of them aggregate their search data from the other three – Google, Yahoo and MSN.
Here are some of the keywords from Google Analytics that people used in search engines that brought them to my blog.  All of them are related to the content at my blog.
twitter tools
running a contest on twitter
screentoaster
tweetsuite
istockphotos
These are just a few keywords that brought folks to my blog.  There are plenty others and I didn't find any keywords that were so totally off-topic that they didn't relate to my blog posts, up to this point.
One tip regarding keywords and keyword phrases is, depending on how often or popular those keywords are, you can write content based on that keyword or keyword phrase that's ranking well for your site.  The reason you'd might want to do that, is to bring more traffic to your site.
Best of January 2009
There were 131 pages viewed a total of 1,809 times. Here are 3 blog posts that received the most page views for January, 2009.
The Palm Pre Smart Phone
Onward and upward.  For February it's traffic growth, comments, looking at creating an ebook, adjusting some of the aesthetics of the blog.  These are some of the tasks I'll be working on for billbolmeier.com in February, 2009.
Photo Credit: kevinzhengli