Here are my blog stats for March 2009.
Goals and Expectations
I continue to "almost" write an article a day.  In March I fell of the daily post bnadwagon.  The balance between search engine traffic, referral traffic and direct traffic has become unbalanced.  But that's okay, it's a young blog and traffic sources change all the time.
My Bounce Rate is still around 50% which is still okay with me at this point. Again, Bounce Rate is when someone lands on your blog and takes off. Reading into Bounce Rate could mean the visitor didn't find what they were looking for at your blog.
The average time a visitor spends at my blog is around 6 minutes according to Google Analytics, so that's still not too bad but it's down by 1 minute compared to February.
Overview
March was a month of not the greatest traffic and I fell off the daily blog post, which is okay because it might be time to produce meatier articles.  This means it might take a bit more time to produce them.
There are plenty of blogs where the writers produce one incredible article a week or two or three and do just fine with their blog.
I still can't find a whole lot of time to provide meaningful comments at other blogs and social networking sites.  By providing meaningful comments at other blogs is one proven way to bring more traffic to your blog.
So for April, I might slow it down and produce 2-3 meatier articles a week.  I'd still like to find time to create training videos, audio, work on a couple niche sites, and implement some categorized advertising. I want to start writing an ebook as well.  That's a lot of stuff.
The thing about some techies blogs, and this includes some of the most popular ones, is that people are going to those blogs to find out how to do something and not so much engage in conversation.
Awstats
Here's a snapshot of my Awstats summary.

Click image for larger view
As you can see, Awstats reports that I had 988 unique visitors for March 2009, down from February's 1,105, ouch!!  My goal for this blog is to get 1,000 uniques a day by the end of this year – December 31, 2009. That's big. 🙂
Another goal is to hit 100,000 page views a month as well. Page views is listed under the Pages column in the summary.  I got some work to do.  However, that 18.16 pages per visit number means people are spending a bit more time at my blog when they do arrive, which is good.
Subscribers
Here's a chart of my Feedburner subscribers for March 2009.

I did not do anything different to pull in more subscribers. Just a normal call to action at the end of each articles. I did not do anything specific in March to pull in RSS readers.  Not good.
Traffic
As reported by Google Analytics.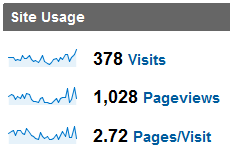 Click on image above for larger view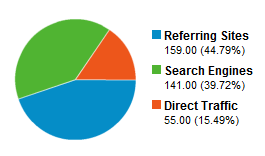 The pie chart above shows a split between referring sites, search engine traffic and direct traffic.  Referring sites are sites that have a link pointing at my blog and people have clicked on that link, ending up at my blog.
Search engine traffic is a result of folks searching on keyword(s) at Google, MSN, Yahoo, etc., and they end up at my blog because the search results showed pages from my blog and they clicked on the link.
Direct traffic is traffic where folks are coming directly to my blog by typing in the address of my blog billbolmeier.com or they have it bookmarked, etc.
Inbound Links
The highest linked to article on my blog is Six Blog Traffic Tracking Tools.  This article ranks in position #5 in Google for the keywords "blog traffic tracking", without the quotes, and #1 with the quotes.  That's what folks are typing into Google to search for.  I could certainly take that keyword phrase now and tweak the existing article or create more articles based on that keyword phrase to drive more search traffic to my blog.
Keywords
Google sent 141 visitors to my blog by 69 different keyword searches.
Best of March 2009
There were 211 pages viewed a total of 2,269 times. Here are 3 blog posts that received the most page views for March, 2009.
Onward and upward. For April it's traffic growth, comments, writing an ebook, working on a couple niche sites, and categorized advertising. These are some of the tasks I'll be working on for billbolmeier.com in April, 2009.