Here's a video of Google's Matt Cutts discussing how to setup your blog title and description for the best search results.
Blog Titles
Instead of Starbucks Homepage as the title, change it to Starbucks Coffee. From an SEO point of view you'd rather have the word coffee indexed than homepage. People will have a better chance of visiting your site if they're searching on coffee. Searching on the word homepage probably isn't going to bring a lot of traffic to your blog or website.
Blog Description
This is taken from the meta description tag.
If Google doesn't find your description for your blog, it might take a look at the Open Directory Project as well as the content on the page.
There's not just one place that Google looks for your blog description. You can experiment with how you want it to display in Google and whether or not those changes help bring more traffic to your site and the right traffic to your site.
The same description for every page isn't very helpful in the search results for that page.
Wherever possible, create descriptions that accurately describe the specific page.
Use site-level descriptions on the main home page or other aggregation pages.
Use page-level descriptions everywhere else.
Using high-quality descriptions will go a long way in achieving our search results.
Meta descriptions don't have to be a single sentence, it can contain tagged information as shown below.
<meta name="Description" content="Author: A.N. Author,
Illustrator: P. Picture, Category: Books, Price: $17.99,
Length: 784 pages">
The link to this video and more content about titles and descriptions is at the Google Webmaster Central article Changing your site's title and description in search results.
Now, for WordPress bloggers who have a self-hosted WordPress blog, there are a number of plugins that can help you set your meta description, meta keywords and other meta-type tags to help you get the results you want.
All in One SEO Pack
One of the most popular plugins that help you with setting meta data tags is the All in One SEO Pack plugin. It allows you to have control over your blog title that displays in the title bar of browsers as well as all the blog post titles as well and how they are formatted.
You can also supply that high-quality description of your home page with the All in One SEO Pack plugin as well as high-quality keywords for your home page.
The plugin also auto-generates descriptions (if desired) based on the content of each blog post and page. But, you should take the time to use the additional fields that you can fill out for each blog post.
You can fill in the description for a blog post as well as the keywords for that blog post. See the image below, this is what is part of every blog post in the WordPress editor.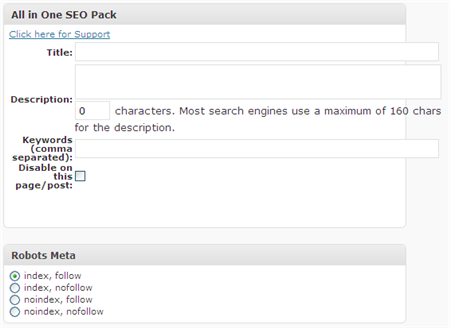 For some WordPress Themes, the keywords get generated by the tags you use for a blog post. But with All in One SEO Pack, you can certainly supply a list of keywords to use for a blog post.
The easiest way to experiment with and view the meta description and keywords is to view the source of a page. You can do this with most browsers today. When you're writing a blog post or previewing it, view the source and check the meta description and meta keywords tags.
Subscribe to my blog so you don't miss any SEO tips and tricks.