In the article 4 Screen Recording Tools I mentioned TechSmith's Camtasia Studio to record screencasts because it gives you a lot of tools to get creative, like callouts and transitions to name a couple.
But, sometimes you just want a quick way to do screencasts without starting up a program like Camtasia. The solution is Screenr. Screenr currently gives you up to 5 minutes of recording time via the web.
You can find Screenr at screenr.com. You just need Java installed which most everyone probably has installed anyway and a microphone. Heck, you don't even need a microphone if you don't want to include audio in your screencasts.
Here are some of the features you'll find at Screenr:
1. Nothing to install. Well, kind of. If you don't have Java installed then you'll be taken to the Java website to download and install it.
2. A big record button to get started quickly. I think the simple designed websites are the winners of the day and Screenr is a winner. Call it Web 2.0, 10.0 or 20.0, nothing beats simplicity and ease of use. When you're at a confusing website, you know it. When you're at a simple website that makes sense, you know it. Screenr is perfectly simple to use.
3. Instructions on what to do next when you click record. When you click the record button, you get a 3 step list of instructions on what to do next (see image below). And what you do next is drag the recording screen to the area you want to record, resize it and press the record button on the recording menu that hovers above or below the recording area.
Note: At this point if you don't have Java installed you'll be presented with a link to the Java website for the install.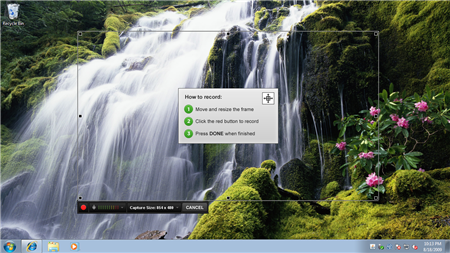 (Click image for larger view.)
4. Tell your Twitter followers about your screencast. Screenr allows you to create a message for twitter below the screencast and submit the tweet to twitter right from their website. Very Handy.
5. Upload your screencast to YouTube. Yep, Screenr has a button that allows you to upload your screencasts directly to YouTube. Again, simple too. Just login to your YouTube account after clicking the Publish to YouTube button on the Screenr website and they'll do the rest. They even put a description of the video you provide as well as tags for your video on YouTube. After they uploaded my screencast to YouTube, you could watch it in HD at both the Screenr website as well as the YouTube website. Nice. 😉
Here's my first video on screenr:

Here's the link to YouTube.
Yes, I like Screenr. Have fun!!
Photo Credit: tsuacctnt