New to facebook?  Need some guidance on getting started with facebook? Well you don't have to look very far as facebook's Help Center offers plenty of information for you to get started.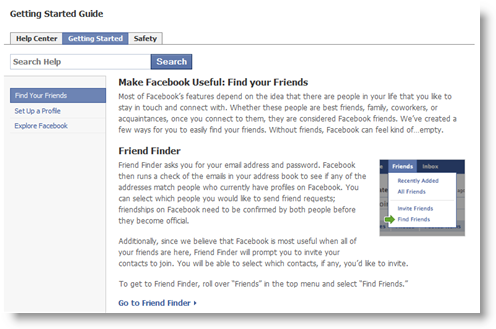 Finding People
Not so obvious sometimes, but look at facebook itself and start with the Getting Started Guide.  With this guide you'll be able to answer the following questions:
How to find friends on facebook
How to find classmates on facebook
How to find coworkers on facebook
How to do a name search on facebook
How to edit your profile and upload your profile photo on facebook
How to upload photos to facebook and tag yourself and your friends
How to find out what's going on with your friends on facebook as well as their photos
TIP: You can also type in a Google (or your favorite search engine) search like this: bill bolmeier facebook
While checking out the Getting Started Guide, see the accompanying Help Center and Safety pages.  The Safety page describes how facebook does not allow anyone under 13 years old to have access and parents should consider supervising anyone under 13 years old who is accessing facebook.
There's also an email address abuse @ facebook (dot) com for people to complain about about nudity, pornography, harassment or unwelcome contact.  Your complaint will be acknowledged within 24 hours and a response issued within 72 hours.
The Safety page also lists websites for you to read more on internet safety in general as well as Safety FAQs for users and parents.
Privacy Settings
After reviewing the above help information, I recommend visiting the Privacy page where you can set details related to the following categories:
Privacy -> Profile – By default under both Basic and Contact Information I set every drop-down to Only Friends
Privacy -> Search – By default I set Search Visibilty to Everyone.  This allows anyone on facebook to search on facebook for me.  You can certainly adjust this as you see fit. (see below)
Privacy -> Search – Under Search Result Content I checked: My profile picture, a link to add me as a friend and a link to send me a message (see below)
Privacy – Public Search Listing – I check Create a public search listing (see below)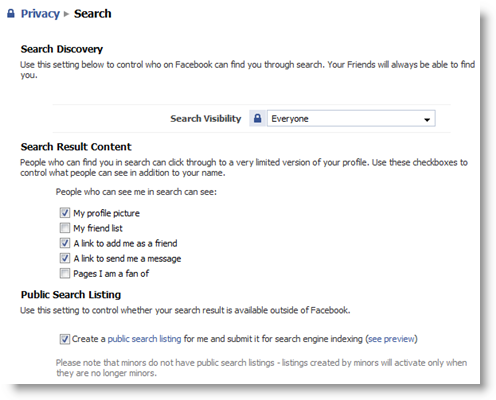 Privacy -> News Feed and Wall
I might change these settings but see the image below to see how I have mine set.  By default I believe facebook has all of these checked but I uncheck all of them to start and then look at each one to determine if I want certain information to always be broadcast to people.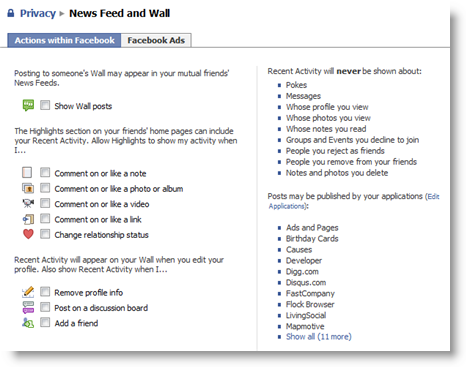 For the remainder of the security settings, I use the default settings at this time for Applications.  There's also a Block List that you can use to block people by name or email address.
TIP: When you add new friends, start using Lists right from the get go.  You can use these lists later on to control who sees what as well as just a good mechanism to organize your vast amount of friends you'll acquire as you use facebook.  Create lists as you add friends and create lists by navigating to your Friends -> All Friends menu selection, look in the left-hand column for creating and managing lists.
That's it!!  If you'd like, Friend me on Facebook.