Take the Poll:

Loading ...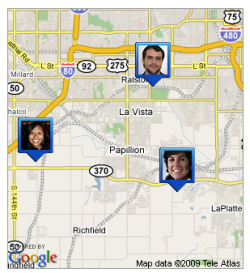 Google's new mobile social network Latitude allows you, your family and friends to view each other on a map. This is accomplished by accepting invitations from each other through Google Contacts. Your Google Contacts are your Gmail contacts.
If a family member or friend doesn't have a mobile phone, they can add you as a contact on iGoogle and that person will be able to see where you're at. You'll also be able to turn this on and off whenever you want. Or enter you general location through iGoogle so you maintain a general location of where you're at and not a specific location.
There are folks that are going to think – privacy, privacy, privacy – and that's fine, it might take some time for Google Latitude to take hold. Older generations are/will be freaking out about all this social stuff and the generational privacy issues.
Again, you can turn Google Latitude on and off, or set a general location. Don't forget about the young folks who took to text messaging or Facebook or MySpace or – Google Latitude. Is Facebook membership declining? I think not.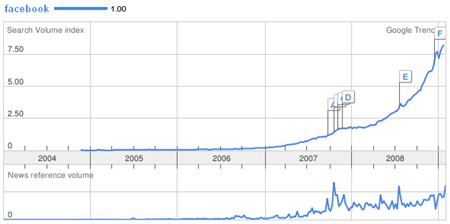 (Google Trends Graph)
10 Ways Google Latitude Can Help You:
1. Connect with all your Google Friend Connect friends.
2. Track your kids. I'm sure they'll love that.
3. Find that party everyone's at or – make sure you know where it's at so you can stay away. 🙂
4. Networking capabilities for marketing purposes.
5. More avenues for advertising and developers. Think targeted contextual information and not targeted ads.
6. Location based services.
7. Location based commercials.
8. New ways to monetize the above information.
9. Build your sales campaign based on special store sales for latitude followers of your brand.
10. Think about scavenger hunts using Google Latitude.
The creepy aspect: It's extremely personal to give up your exact location every minute and moment of the day. However, there is an on and off status to all this. There's certainly already a lot of creepiness in life. But, it's the well thought-out ideas that will make this social technology useful.
Here's a Latitude video from Google.
Let me know what you think in the comments. Also,
Subscribe to my blog
for more on mobile social network discussions and views on generational privacy issues.