Google's got the goods. They introduced Google Social Search today.
What is Google Social Search? When you do a search using Google and you belong to various social networks like Twitter, FreindFeed, YouTube, etc., at the end of the first page of your Google search results, you'll have Results from people in your social circle for…(fill in what you're searching on).
The search results listed will include two listings from your "Social Circle" that include articles pertaining to what you're searching for but from your social circle. If you click on the Results from people in your social circle link, you'll be taken to a whole bunch of search results directly from the various social networks/social services you belong to.  What's your social circle?  Keep reading.
How to Get Started with Google Social Search
1. Google Profile – Do you have a Google Profile? If not, you'll want to create a Google Profile.  Provide as much information about yourself as you can.
While you're creating your Google Profile, you'll be able to list the social networks or social services that you participate in and would like to list on your profile.  Below is an image of the social networks I currently have listed on my profile.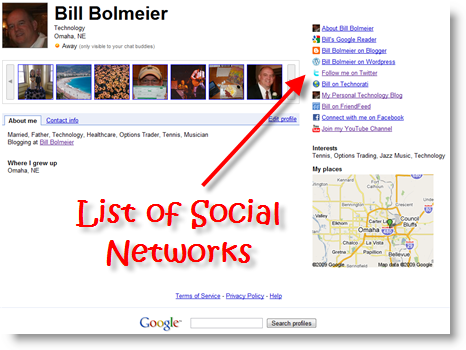 The social networks or services you belong to are where Google Social Search will pull the information your searching on when you do a Google search and you are logged into Google.  And just a reminder: Log into Google to include the social search results.  These social networks or services make up part of your social circle.
2. Google Talk – Google Social Search also has the ability to include chats with your buddies from Google Talk.  Google Talk is an IM or Instant Messaging system from Google.  You can use it in a web browser to chat online with friends or even from a mobile phone by browsing to m.google.com/talk on your mobile phone.  These chats are included in your social circle.  You have complete control over whether or not you want to include these in your social searches.
3. Google Reader – Do you subscribe to blogs? If so, great.  If not, browse over to Google Reader and start subscribing to some of your favorite blogs.  As you add blogs to your Google Reader they will become available in your Google Social Search.  Google Reader also makes up your social circle.
These three tools: Your Google Profile, Google Talk and Google Reader, make up your social circle that get included on your Google searches resulting in Google Social Searches.  Whew!!  Happy searching.
Helpful Links:
Photo Credit: fdecomite