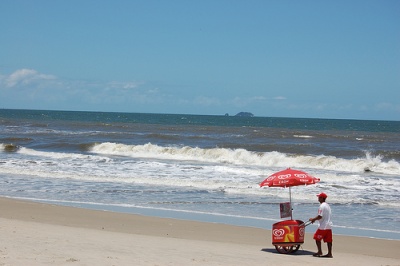 If you want to add some pizzaz to your online publishing efforts, whether that's a blog, a static website, emails, newsletters, etc., images provide a visual support to your message.
Here are a few sites that offer free and paid photos that you can use.
Flickr Creative Commons
flickr is the preeminent photo sharing site. It also has an area called the Creative Commons. Creative Commons allows you to offer your work under different types of licenses that dictate how others can or cannot use your work.
With the Flickr Creative Commons, you can search on photos by keyword(s) and select an image that best compliments your content.
For example, for this blog post I browsed over to the Flickr Creative Commons and selected the see more link under the Attribution License. You can either search on a keyword or phrase but I decided to click on the browse popular tags. That's how I found the image at the top of this article.
And for making sure you give the owner proper respect, you add the tag line Photo Credit: Bruno_Brujah at the bottom of the article, like this one.
stock.xchng
stock.xchng is another site where you can find and use free photos.
In their words:
SXC was launched in February 2001, as an alternative for expensive stock photography. The idea was to create a site where creative people could exchange their photos for inspiration or work. In about two years the site evolved into this massive community you see now – there are over 1.500.000 registered users and more than 350.000 photos online!
There sister site is stockxpert, a royalty-free stock photography community with the goal to provide customers with affordable stock imagery while offering a powerful tool to photographers and digital artists who would like to sell their work.
iStockphoto
iStockphoto offers excellent photos that are more professional looking.
With iStockphoto you buy credits that allow you to download images.  You can search for photos and most of them have a watermark on them.  The credits allow you to download non-watermarked images.
In their words:
iStockphoto is the internet's original member-generated image and design community. Find your inspiration on the world's leading royalty-free stock destination. Search for over 3 million photographs, vector illustrations, video footage and Flash files. Buy stock or sell stock — or both.
FreeDigitalPhotos.net
FreeDigitalPhotos.net is a site that offers photos for free in one size and quality.  The higher resolution photos will cost you a little bit of money but well worth it.
In their words:
Thousands of royalty-free photos for websites, newspapers, magazines, video and TV productions, PowerPoint presentations, forums, blogs and school work.

All our photos are free for corporate and personal use. Every image is free, with an option to buy high resolution versions for use in print or graphic design.

Register as a FreeDigitalPhotos.net photographer and share your photos with millions of people, with an opportunity to sell your photos.
So there you go.  A few site that you can find photos for free or pay for some that might look quite a bit better than the freebies.  And make sure you give credit to the owners where appropriate.
Photo Credit: Bruno_Brujah