Keyword research is the process of discovering words that searchers use to find what they are looking for on the Internet. These words are known as keywords, keyword phrases or queries. You can use these queries to help people find what they are searching for. The search results are considered organic search results as opposed to paid search results (see image below).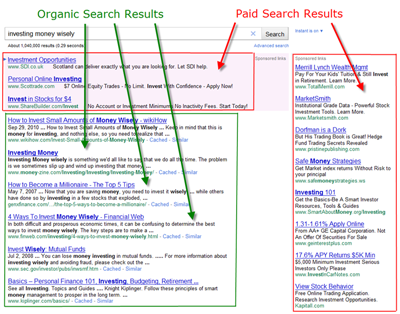 (click image for larger view)
The following steps outline one way to do keyword research and how to implement it on your website.  It is not intended to be the only way.  It will help bring relevant, organic search traffic to your website over time and you'll be able to rank higher in the search engines for keywords that are relevant to your website and business.
1. Keyword Types
Determine your category keywords that represent major parts of your business. Category keywords will be used to organize articles that contain related relevant keywords. Category keywords also reflect how you want your visitors (customers) to respond. Primary keywords will be used in article titles, primary and secondary keywords will be used in article content, and long-tail keywords will be used in article content as well as back links from other websites.
2. Keyword Tracking Document
To track your keywords and what they'll be used for, create a keyword tracking spreadsheet. I use Google Docs to do this so I can access the spreadsheet wherever I'm at. I name the spreadsheet "MyExampleWebsite.com Keyword Phrases". View an example of the keyword tracking spreadsheet.
3. Gathering Keywords
Use the Google Adsense Keyword Tool to start gathering keywords relevant to your business and your ideal customers. As you use this tool always be asking questions like: Who is my target audience? What words will searchers be using to find what I have to offer? What is the purpose of my website related to my business. Be specific.
4. Narrowing in on Keywords
Using the Google Keywords Tool, look for keyword phrases that are 3 or more words in length and have global monthly searches between 3,000 and 30,000. You can certainly set it between 1,000 and 10,000 monthly searches to start. Look at low and medium competition keywords and set the estimated average CPC of $2.00 or more. These numbers are recommended for individuals and small businesses.
5. How Many Keywords?
You'll ultimately want to rank for hundreds and even thousands of keywords over time. For starters, you'll want at least 3-5 category keywords made up of 2-3 or more words.  Categories will contain 3-5 articles per category. Articles will include your primary, secondary and long-tail keywords. The more content you create over time on a consistent basis, will help you rank for many different keywords.  Above all, make sure you write for humans and not search engines.  Use your keywords strategically when it makes sense to a human reading your articles.
6. Create a Website
I use self-hosted WordPress blog software to create websites and blogs. Sometimes I use hand-coded HTML/CSS websites but not so much anymore. You can create a website quickly in WordPress that doesn't act like a blog but acts more like a static website. You can certainly use WordPress for blogging as well.
7. Keyword Monitoring, Metrics and Maintenance
As your website starts to rank for various keywords, use the Google Webmaster Tools and/or Google Analytics to watch what keywords are being used by searchers to find your website and what pages on your site start to get the most views. You might be surprised what words searchers use to find your site. Track these in your keyword tracking spreadsheet.
That's it for now. If you want targeted traffic in the form of customers that come to your website, then learn how to cast an extremely wide net in the form of keywords. There's a lot to keyword research and it's something you'll continue to do, to grow your website and business over time.
To receive future articles that will drill down into each step of this process, please subscribe to billbolmeier.com so you don't miss a word.