In Making Money with Niche Sites – Part 3 I commented that I'm discontinuing the Discus Fish niche site because Adam Short recently created a site on Discus Fish.  I had gotten that topic from the Amazon magazines section on Pets->Fish.  But as I listened to the interview again, I realized that Adam had started a site on Discus Fish.  DOH!!   🙂
As I discussed in Part 3, I also looked at how Adam's existing Betta Fish site was listed on the second page of Google results which it still is and has been for a few years now.  If you look at the results, you'll also see an article on "Betta Fish" listed at Ezine Articles called Ten Tips for Caring for Your Betta Fish.  That article is listed today in the United States as #10 on Google's first page search results.  The article was co-written by, none other than, Adam Short.

At the end of the Betta Fish article there is a link to Adam's Betta Fish Center.  This helps tremendously because article marketing is a popular way and in this case a successful way to get ranked in the search engines.
Part of creating a niche site using Adam's approach is to create, for example, 11 articles for article directories.  Adam talks about creating 11 articles to submit over a 21-day period – 1 article every other day for 21 days.
I'm jumping ahead a bit here, but thought I'd mention article marketing because Caroline Middlebrook has been running a very nice series of articles on article marketing.  check out her February 2009 articles on Article Marketing and Distribution.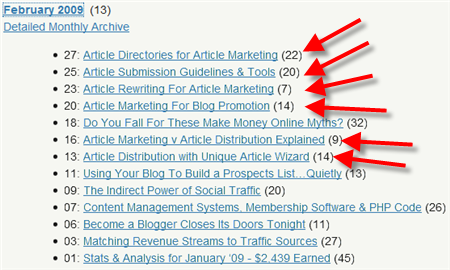 Okay back to a different step.  Last week I listed the site map of the Betta Fish Center site so we could get a feel for what goes into a small niche site.  The next step for our niche then, is to create a site like that or comparable to that.
In his interview with Yaro, Adam talks about creating 5-6 articles for the site.  These articles are not the same articles that are sent to the article directories.  They're different.  I'm assuming some of the articles are "re-purposed" so they seem like new and original content and not duplicate content that Google might not like.
Creating the Site
You could try and use a free blogging service like Blogger or WordPress.com, or create and host your own domain based on the niche as well.  Using a free site would allow you to test the niche using some form of keyword.blogspot.com or keyword.wordpress.com in the URL.
If you use a free bloging or website ceation service, you might only be able to go as far as keyword testing and how your test blog gets ranked in the search engines.  I wouldn't take this approach myself since you're spending quite a bit of time trying to get a test or free blog ranked just to see how well it might rank.  Then if you decided to continue, you'd have to start over – in a sense.
Now that I'm NOT going to use Discus Fish, I've selected two niche topics.  I'll do a bit more research on both and pick one and then start to create a site using a self-hosted WordPress blog with very limited content and no commenting allowed – I think.
Since I'm very familiar with self-hosting WordPress, this will be rather quick and easy for me.  We'll see how things turn out.  Part of creating a niche site is creating the site and letting it bake in the search engines.