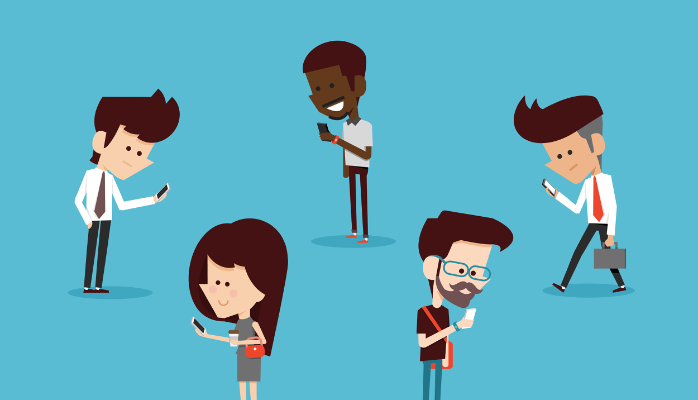 Two things in life are certain, wait…no three things in life are certain: death, taxes and of course, preparing your website to be mobile-ready.
How does your website look on an iPhone, iPad, Android and other mobile devices?
Mobile Has Taken Over
We still have desktops and notebooks, but for the most part, everyone is using their mobile device to search and browse the web.
And there's even more reason to get your website mobile-ready, Google has put a date on it. As of April 21st, 2015, Google is rolling out the "mobile-friendly" algorithm.
Here's what Google is telling us:
"Starting April 21st, we will be expanding our use of mobile-friendliness as a ranking signal. This change will affect mobile searches in all languages worldwide and will have a significant impact in our search results. Consequently, users will find it easier to get relevant, high quality search results that are optimized for their devices."
This makes perfect sense if you've ever tried to browse a website on a smart-phone that is NOT mobile-ready. It can be excruciating, as it's hard to read and difficult to navigate.
How do you know if your website is mobile-ready or not? If your website or a favorite website you visit looks like a tiny web page on your iPhone (or other mobile device), and you can't read it, then it is not mobile-ready. That is one sign.
Use this Google tool to check your website and see if it's mobile-friendly. https://www.google.com/webmasters/tools/mobile-friendly/
Google will tell you if a page is mobile-friendly and give you a preview of how they see the page on mobile.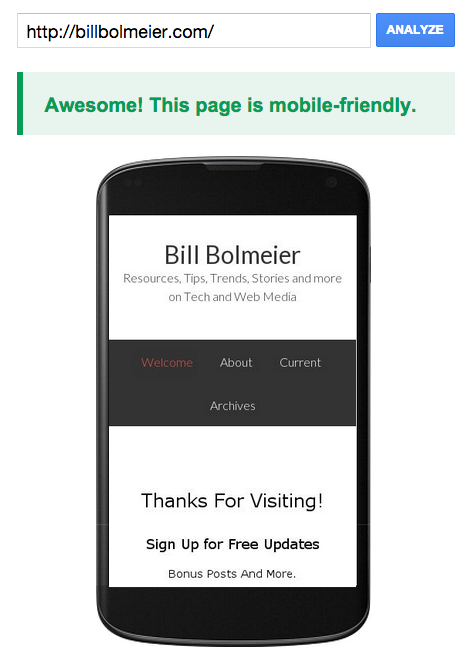 If the site is NOT mobile-friendly, Google will give you reasons why it's not mobile-friendly or ask for more information about the site so they can proceed to tell you more about the site and why it's not mobile-friendly.
If you have a self-hosted WordPress website that is NOT mobile-friendly, it can be easy turning it into a mobile-friendly site.
I will email you a couple different ways you can do that if you join my email list by providing your email address in the subscription box on this page.
In addition, email me at bill[at]billbolmeier[dot]com requesting "WordPress Mobile-Friendly" in the subject line or body of the email and I will send you a couple different ways to make your self-hosted WordPress website mobile-friendly.
Get more advice on being mobile-ready by reading Google's Mobile Guide. https://developers.google.com/webmasters/mobile-sites/