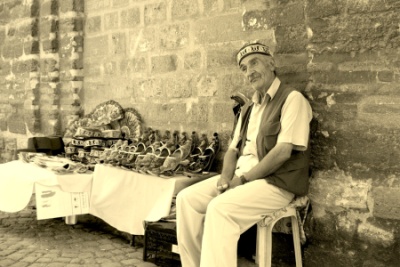 In my first making money online article I talked about Google Adsense and how you can make money by placing Adsense ads on your blog or website.
Now, to really make money with Google Adsense you have to have a huge number of visitors and they have to click on the ads. That's why you see sites that have Adsense placed strategically on a page to make it easier for readers to click on them.
If you've ever watched a user search for information and click on an Adsense link, it's amazing because these ads have come to be known as "ad blindness".  Ad blindness is something that happens when you see the same ads on blogs over and over again and you end up not even looking at them.
I first saw it when a company was planning a retreat and wanted to buy gifts for everyone.  One Google search on the gift, a click on a website talking about those type of gifts, and an Adsense block strategically placed at the top of the website and voila, they clicked on the Adsense link.
Affiliate Marketing is a way to sell a product or service through a third-party. You, are the third-party. For example, some of the images here on my blog are advertisements for affiliate products. Someone is selling a product or service and I'm providing an advertisement in exchange for compensation for that product or service.
This benefits the seller who might not have access to huge marketing funds, as well as benefiting you, someone who is helping to sell the product or service, and the buyer who might not ever be introduced to the product or service that is for sale except through an affiliate.
This is a great way to make money from your blog. However, again you have to get it in front of as many eyeballs as possible and the owners of those eyeballs have to click thru and purchase the product or service.
Finding Affiliate Programs
A couple of popular sites to start your search for products that offer an affiliate program are Commission Junction and ClickBank. You create an account and browse through their advertisers and pick products and services that fit your niche.
You advertise those products somehow on your blog, whether by a clickable badge or image that takes your readers to a page where they can read more about the product or service and ultimately purchase it.
If someone buys the product by way of your blog, you get part of the sale. This is done by a special link that is placed on the ad at your blog. There's a ton of products and services out there that you can find for your niche.
Another way to find affiliates products and services is to browse to your favorite site and see if they have an affiliate program. You can sometimes find links at the bottom of a page in a small font that say Affiliates or Affiliate Program, etc.
Another site where you can open an account and browse through thousands of products is e-junkie.
Again, there are quite a few affiliate marketing sites out there to investigate and find products or services in your niche that you might want to sell.
Affiliate Ad Placement
There's a few ways to place the ads on your blog. One way is to write a review of the product or service you're selling, whether you've used it or not, and place your affiliate link in the text of the review along with badges or images that provide your affiliate link to the product or service.
Another way is to mix text links with a favorite articles list. You could have a recent or favorite articles list in the side bar with an affiliate link or two mixed in, so as readers view those and click on the affiliate link, it could drive the reader to purchase that product.
These are just a few ways to approach affiliate marketing. There's quite a few ways to do affiliate marketing, both on the web and off.
You're only dilemma with affiliate marketing is how to drive enough traffic, and the right traffic to your blog so you have the best chance of selling products.
Subscribe to my blog and we'll explore some of those traffic building techniques.
Photo Credit: deste