Daniel Scocco of Daily Blog Tips has written a free eBook titled Make Money Blogging.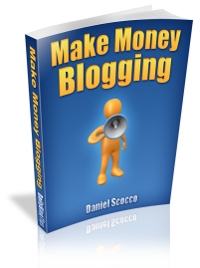 For those of you who don't know Daniel or his blog, he's been around for a few years providing valuable blog tips that include a wide range of topics; everything from blog content to blogging with WordPress to making money blogging to blog traffic to blog SEO (Search Engine Optimization) and tons more.
I started reading Daily Blog Tips in 2007 and still do.  The range of blogging topics that Daniel writes about makes you feel like you've struck gold in each blog post.  Check out his archives.
One of the things that sets Daniel apart from a lot of the top bloggers is his explanation of why and how things work with your blog.  Not only does he provide the 'how to' information but also the 'why' side of blogging that answer the many questions bloggers face during their blog's journey.
When you start blogging, you have lots of questions, including naming your blog, technical aspects of your blog, gaining an audience, and how to make money with your blog.  Well, Daniel has written an eBook that guides you through many of these topics.
The eBook is chock full of gold nuggets that span 5 chapters including:
Picking a domain name
Hosting your blog
Blogging software
Types of blogs
The truth about making money blogging
3 blogging mistakes to avoid
Blog content: types of content, examples, and ideas
Blog design
Networking with fellow bloggers
Commenting, Linking, and Guest Posts
Social Bookmarking and Social Networks
Monetizing your blog: Choices, Explanations, and Definitions
…and tons of links to valuable resources
Overall, a concise and informative eBook from an excellent blogger.
This is not a beginners, hold your hand and I'll explain every detail eBook.  You'll need a bit of knowledge about blogging and blogging terms to better understand some of the concepts in the eBook.  But guess what?  If you're an absolute newbie to blogging, you can find most of your answers in the archives of Daily Blog Tips as well as using the search box to find the information you're looking for.  Download Make Money Blogging and Get Readin'!!   🙂