There are quite a few browsers out there to pick from and here's a list of five that I like and use interchangeably depending on what I'm doing or need to do.
1. Flock – Flock is an incredible browser because it's a social media browser that's hooked into almost every social account you have on the Internet – Facebook, MySpace, Flickr, YouTube, on and on.  See the opening screen of Flock below. Update: Flock is no longer available.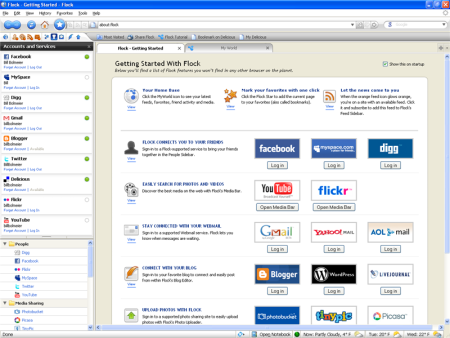 Click image for larger view (800px)
As you can see, a bunch of social media tools are at your fingertips when you're using Flock.  Now that can be a bad thing if you need to concentrate on working in your browser, for instance writing a blog post.  Which Flock also has, a blog editor.
Another nice feature of Flock is that you can install most Firefox addons.  Just use Flock to browse over to Firefox Add-ons and install what you need.  There's more ways to Flock in the social world and I'll talk about them in future articles so make sure you subscribe to my blog.
2. Firefox – Firefox is extremely popular and it deserves to be.  Kind of savior for some of us who were stuck with Internet Explorer.  Firefox came a long and offered better security as well as faster load times.
Firefox also has a huge addons library that enhances Firefox in a way that makes it customizable to your liking.  The downside to addons is, if you load up Firefox with a ton of addons you'll most likely see the browser slow down when loading.  This isn't unique to Firefox, this happens to anysoftware that loads feature upon feature.
3. Goolge Chrome – Google came out with their own browser called Chrome during the summer of 2008.  It dawns a very simple, uncluttered user interface that allows you to focus on the task at hand.  The opening tab in Chrome features a handy "Most Visited" page that displays small thumbnail images of your latest websites you visited.
4. Opera – I use Opera to help others with their online accounts when necessary – family members.  Instead of using my normal browsing environment, Opera allows me to keep up-to-date with what they're offering.  Like Google Chrome, Opera's has a "Speed Dial" feature that displays most recently visited pages or pages you want handy in smaller thumbnails to quickly browse to your favorites sites.
5. Internet Explorer – Internet Explorer is Microsoft's stalwart browser.  I use IE 6 and 7 for specific web applications that I use.  Some products were written for IE and run best in that browser.  It is not my browser of choice and if you're a normal Jane or Joe, I'd recommend jumping over to Firefox just for the level of security offered by Firefox.
There you go.  Choices, choices, choices.  Now go play.   🙂