If you're a blogger, you have what are called popular posts on your blog.  How do you know this or find this out?  Run some type of analytics software on your blog and you'll find out.
Popular posts are also referred to as your "Money Posts".  Why?  Because you can leverage those posts to make money from your blog.
WordPress Popular Posts Plugins
There are quite a few popular posts plugins you can find if you browse through the WordPress Plugins Directory.
I currently use the WordPress Popular Posts plugin.  Below is the configuration screen and its many options you can set.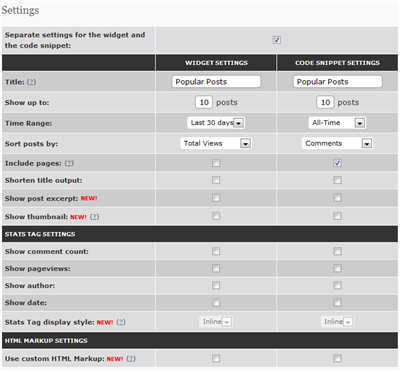 Click image for larger view
You can view how this plugin looks in the right sidebar on this blog: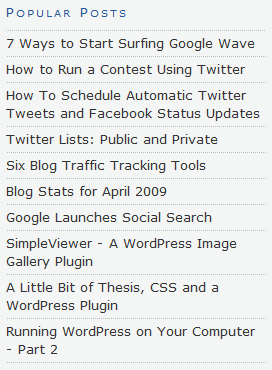 Now, to drill-down a bit more, you can see what your most popular posts are over time by using the WordPress.com Stats plugin.
The WordPress.com Stats plugin will give you quite a bit of data and if you click on the Top Posts & Pages link, you'll be able to see what blog posts have been the most popular (by views) over the last 7 days, 30 days, quarter, year, and all time.
Google Analytics is a popular analytics tool to use on your blog.  It will also let you drill-down and look at the details of your content.
Promoting Products and Services
After you've gathered the top 2 or 3 blog posts on your blog, you can display ads that are related more closely to that blog post.
For instance, if you have a how-to article about some techie topic that has been doing well over time, you could find an affiliate product to promote in that article or on the sidebar of your blog that only shows up for that article.
You could do this with 2-3 articles that are related to the topic of the product or service.  You could also do this by WordPress category.  So if any blog post is in a specific category, you always show the same affiliate products or services.
By doing this, you'll be promoting a product or service that is more directly related to the blog post.  You can also do this with your own product or service.
Where do you find affiliate products?  You can find them on other blogs related to your niche.  Check out what those blogs are promoting (outside of Google Adsense) and see if that product or service has an affiliate program by visiting their website.
You can also find products and services at sites that specialize in affiliate marketing like ClickBank or Commission Junction.
I'll be writing more details about this in my newsletter so don't forget to subscribe to the newsletter.