Here's a great way to run a contest on twitter and get more twitter followers doing it.
First, offer something on your blog or website. Whether it's an ebook or some electronic gadget, make it worth people's time to take action like subscribing to your blog or tweeting your contest out to their twitter followers.
Outline how your visitors can win whatever it is you're giving away. Something like the following (I'll use my twitter account as an example):
Follow @BillBolmeier on twitter.
Simply tweet: "Just entered to win a Big Special Free Prize. Follow @BillBolmeier and retweet this special link."
Reminder: Keep your tweet under the 140 characters allowed by twitter.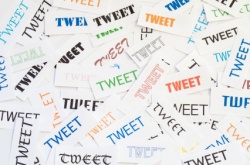 What This Does
If you're a Seth Godin follower or know of the whole "sneezing", "sneezers" and "viral marketing" stuff, this is it in action.
If you're on twitter and have followers, your followers are your potential "sneezers".
What Do You Get Out of This?
First – Twitter followers. Because the first step of the contest is to follow you or your business on twitter, you'll potentially gain new followers, who become new customers, who become raving fans.
Second – People are intrigued from all the tweets about your contest at your blog or website, specially since the Big Special Free Prize you're giving away is something awesome – let's see, like an HD Video Cam or something just as cool.
Third – They retweet in step #2, telling ("sneezing") everyone about the competition and what they can win, which drives them to your blog post about the contest.
Since a tweet is a one time event and is eventually lost in the sea of tweets, you'll want to think about how often you should tweet your contest using your own twitter account(s). If it's a three day contest, then tweeting 1-3 times a day will help you keep it on people's radar.
Tracking Your Contest on Twitter
One way to track your contest tweets is with Bit.ly.
Bit.ly is a service that allows you to create a special link to your blog post or website page describing your contest.
Bit.ly is a URL shortener that creates a unique URL to your contest page. Bit.ly offers statistics that include how many times and when people click on your link.
You can use twitter search to track who is retweeting your contest by searching for that link or something unique about your contest tweet like a unique #hashtag.
Contest Duration
Keeping the contest short and active over a couple or few days might work fine as far as gathering up everyone who is tweeting and retweeting your contest.
However, for the ultimate control of your contest tweets and retweets, it might work better for you to have tweeters browse to a custom landing page so they can tweet your contest from there.
That way, you'll be sure to track every tweet sent and who is tweeting from the landing page. You'll have to get someone to code this for you if you can't do something like this yourself.
If you do it this way, with a landing page, make sure you only gather their twitter name, show them the tweet that will be sent, and allow them to click a send button. Keep it simple so it works and don't complicate things by requiring your sneezers to provide extra data.
Other Tracking Alternatives
Another way to track tweets and retweets is to use Bing Social, which indexes tweets in real-time and search results for your unique link or hashtag will update automatically.
Topsy is yet another way to do real-time search for your contest tweets.
Another tool is Postpone, which will "strip search" through your timeline looking for what you want to find – your contest tweets.
The "Sneezing" Result
Your twitter followers will retweet to their followers, and those followers will retweet to their followers, and so on.
Are you hearing all that sneezing yet? Your "sneezers" are helping you with your marketing.
How do you find the sneezers? Do you think that offering people discounts will help you get at the sneezers?

Actually, I think the sneezers find you. They find you because you hang out where they hang out. If you're launching a product that doesn't have a natural hive of sneezers, that's really hard, but generally you're clever enough to find the right nexus. Starbucks didn't open the first shops in rural South Dakota, even though storefronts are cheap there. Apple opens their stores using similar thinking. Software guys realize that a post to Slashdot is worth more than ten ads in Time magazine…
That's it. Now start sneezing. If you hold a twitter contest, let us know about it in the comments below and how it went. And make sure the prize is the best you can possibly give away. You got a make it juicy for people to respond.
After the contest is over, follow thru by providing the best and fastest delivery of the prize. Ask the winner to tweet that they received the prize and who it's from. Usually, they follow through when it's something that is real, great, and trustworthy.