In my first article Running WordPress on Your Computer, I explained how to go about downloading the tools you need to run WordPress locally on your PC so you can design themes, development plugins or just stay on top of the WordPress beta releases that come flying out the door everyday.
Well, there's another way to install WordPress locally on your PC and it's part of the Microsoft Web Platform.
So here's what you do:
1. Browse over to the Microsoft Web Platform home page and click the Get Started button.  On the following page you'll click on the "Get the Microsoft Web Platform Installer" button.  There will be a "Download" button on the right-side of the page that will download a file called wpilauncher.exe (Web Platform Installer).  View the System Requirements link under the download button to make sure you got the goods.

2. After you've downloaded the Web Platform Installer, install it.  After the launcher starts, you might need to install additional components depending on your current Windows setup.  For instance, if you don't have IIS (Microsoft Web Server Internet Information Server) installed, this is when you'll have a chance to do that.  Note: You might need to find your Windows install disk just in case the install asks for it.
3. Once you've installed the Web Platform Installer, you'll be able to browse a bunch of web apps that are available for you to install on your computer.  In the WPI, select the Web Applications tab on the left and click the A to Z button at the top.  Scroll to the bottom where you'll find WordPress.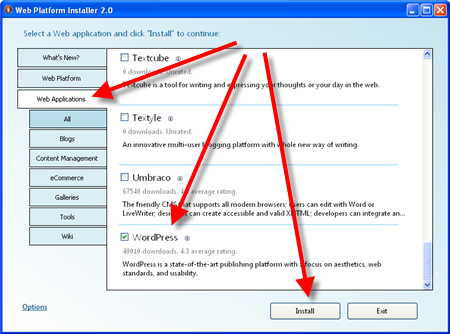 4. You'll be presented with a screen regarding various passwords.  Pick a standard password you'll remember.  If everything goes well, you should see the following screen.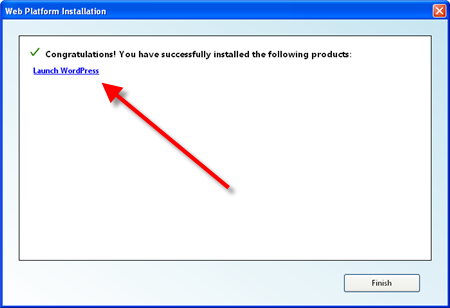 5. Okay, keep going.  After WordPress is installed click on the Launch WordPress link.  After a few moments WordPress will launch and ask you to title your blog.  Do not check the box that asks you whether you want to include your blog in the search engines.  Kind of pointless since you'll be running a blog on your PC no one will be able to access – possibly.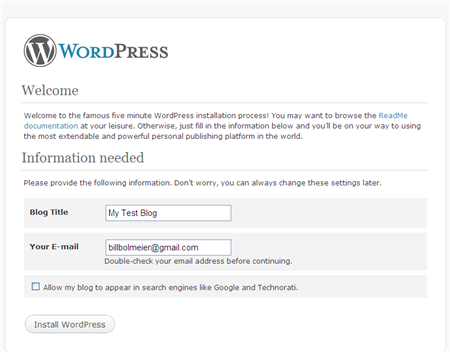 6. After you install WordPress, you'll see the admin login with a randomly generated password.  Copy the password and continue to login to your blog with the admin login and password you just copied.
First things first, go to the recommended Users screen and change your password to something memorable.  Seriously do this, because the next time you go to login to your blog it will be easier to remember a memorable password as oppossed to the randomly generated one.
After you change your password, logout of WordPress and log back in to make sure the password you entered works.
Guess What?  That's it.  Click on View Site at the top of WordPress to view your blog.
You've installed the Microsoft Web Platform and the WordPress blogging software.  Now on to bigger and better things with WordPress, like finding some themes you like and installing them.  And that will be for future articles.  Have fun.   🙂