If you're like a lot of folks who send scheduled tweets to twitter via whatever service you use, here's a way to send your scheduled tweets to twitter and a status update to facebook at the same time.
There are quite a few services out there now that will send scheduled tweets to twitter for you like
SocialOomph
(formerly
TweetLater
) and
HootSuite
.  I use
HootSuite
so that's what I'll use for this example.
The Twitter Side
HootSuite allows you to send twitter tweets immediately or later (scheduled tweets).  You can add multiple profiles for your one HootSuite account if that's something you're looking for.

The above image will send a tweet at 11:10pm on Wedensday, 09-09-2009.
The Facebook Side
Now, browse over to facebook and install Selective Twitter Status.  All you have to provide at this point is your twitter username and click the save button.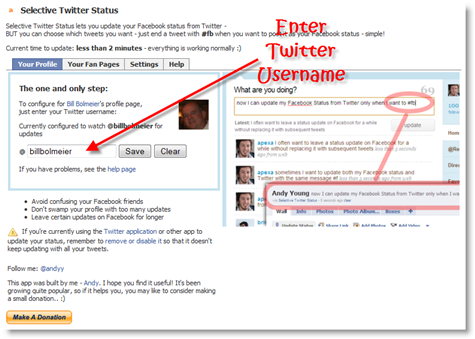 After installing the Selective Twitter Status facebook app, type your tweet into HootSuite as seen below with an ending #fb tag and your scheduled or immediate tweet will go to both twitter and facebook.

That's it!!  The purpose of this article was to show how you can schedule a tweet to twitter as well as send that tweet to your facebook as a status update.
If you use TweetDeck, Seesmic or any other twitter client, you might  already have the capability to send a tweet to both twitter and facebook but not on a schedule.  So this is a free and easy way to get the job done.  I love TweetDeck by the way and would love to see a scheduler in there.  We'll see.
Control Freaks
If you really want to have a lot of control over multiple social media sites and the scheduled information you'd like to disseminate whether it's from your blog, twitter, facebook or other social media sites, you can try the service postlater.
If you found this article hlepful for yourself or anyone you know, consider retweeting it and/or saving it to delicious.  I appreciate the support and you'll be a more awesomer person for it.   😉   Awesomer – Yes, that is correct engish.