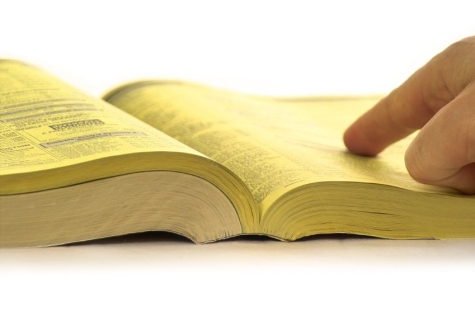 Okay folks, time for the dry stuff.  When you create a web app, it typically interacts with a database, more specifically an SQL database.
What is SQL? SQL stands for Structure Query Language.  SQL is a way to store and manipulate information in a database.  So what's a database?  A database is something that stores information.
You use SQL to perform operations on the information that is stored in a database.  An operation is adding information to a database, updating information in a database, as well as reporting on information in a  database.  There are many other operations you can perform on a database using SQL.
Database Example
One of the easiest examples to better understand what a database is, is the phone book.  It's a paper database.  The phone book stores names, addresses and phone numbers, at least the one I'm looking at.
With the phone book analogy, let's walk through some beginning SQL definitions.
A database is made up of tables.  A table is made up of rows and a row is made up of columns.  Whoa!!  Okay, if you've never been exposed to this stuff it can be kind of dry and confusing, so let's look at a visual representation of a database, table, row and column that I created in Microsoft Access.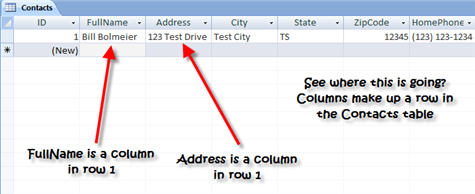 Again, you can see that the full name, address, and phone number of one person makes up one row.  Many rows, or many people then, make up a table. The full name is a column, the address is a column, and the phone number is a column as well as the others.
If you're a WordPress blogger then most likely it's using a database called MySQL.  If you use Microsoft products then you might be using Microsoft's SQL Server.  There are many different database products out there.
Well, that's it for this installment of Getting to Know SQL.  I wanted to keep it short and digestible since there's a lot to SQL.  In part 2 we'll get going with some free SQL tools so we can play around and experiment.