You've seen them all over the place on the web. The little orange icon with stripes through it.  One looks like this:

If you don't know what they are, they represent a way for readers of a blog (or any other website) to subscribe so that as a reader of that blog you'll be able to receive information right into your email inbox or use a reader that holds a list of your favorite blogs.
The advantage of receiving information into your email inbox or using a reader is that you don't have to browse to a bunch of different blogs everyday that you are interested in.  You use one tool – email or a reader that is known as an RSS reader.  RSS stands for Really Simple Syndication which is a standard format for content to be delivered.  An example of an RSS reader is Google Reader.
More on Google Reader in future articles so subscribe to my blog so you don't miss out.   🙂
Google Reader allows you to aggregate or collect a list of blogs that you like to read in one place.  This makes it easy to skim or read through a bunch of blogs quickly because you're not spending time visiting each one and waiting for your browser to load each site.  At the same time, you can just click on a site's name or article that's in your RSS reader and you'll be taken to the site.
RSS for Bloggers
If you're a blogger who's trying to build a community around your blog, an RSS image is mandatory so you can gain subscribers and build that community of readers.  It allows you to get a feel for how many folks are reading your blog and can be used for advertising purposes when a blog has grown large enough to sell products or services from their blog.
When you're just starting out blogging it's a good idea and rule of thumb to place a large RSS image above "the fold".  The fold is the upper half of a web page in a browser.  This typically is placed on the upper right-hand side of the blog and large enough that it makes it easy for readers to click on and subscribe.  You'll see one on this blog.
RSS images now come in many designs.  Over the past few years as RSS has become popular, more designers have created very attractive RSS images.  Here is an example of a non-standard RSS icon.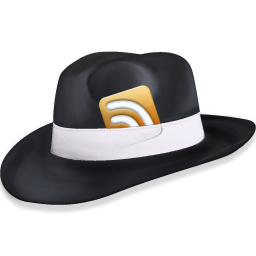 Here are a few links for you to check out various RSS images that are not your typical RSS image.
Free Icons from Hidden Pixels
Free of charge icons RSS Feed Icons
110+ Free RSS Icons to Show Off Your RSS Feed
And to wrap things up and drive RSS home, here's an excellent video that explains it another way.  Enjoy!!
Subscribe to my blog for more RSS tips to come for bloggers. You can also click on the RSS "Hat" above.