When you start a new blog it can seem like no one is listening.  What has come to be a standard practice in the blogging world is to visit other blogs that are in your niche or blog topic and leave meaningful comments on articles that you really get something out of and feel like you can contribute to.
When you do this, most blogs will allow you to leave a link to your blog and when other folks read your comment, they just might click on your link and end up at your blog, and hopefully leaving a decent comment on a blog post or two.  At least something a bit more in depth than just, "Hey, nice blog".   🙂
Well there's plenty of ways to drive traffic to your blog – StumbleUpon, Delicious, Digg, and others.  By the way, driving "miss" traffic to your blog should be a routine task that you perform on a consistent basis as well other forms of self-promotion.  But, let's dig into another way to drive traffic to your site.
Retweeting
If you notice here at my blog, I have the Retweet button from TweetMeMe by every article.  And most of them are big fat zeroes.  One reason for that is, I just implemented the Retweet button not too long ago.  Another reason is because I hardly do any self-promotion at this blog.  Not yet anyway.  And yet another reason is because some folks might not know what retweeting is or how to retweet, or maybe what I write here doesn't inspire some folks to retweet the post.   🙂
However, retweeting involves Twitter, that wild and woolly social networking site that's all the rage right now.  Twitter is a great source for new blogs to acquire traffic.  As you build your following on twitter, you'll gain an audience that will help you promote your blog posts across the twittersphere.
By following folks on twitter who are interested in what you're interested in, there's a good change they'll follow you back.  And through conversation, their followers might find you and also follow you.  This becomes part of your audience that will help you tweet your blog posts to the world.
Promoting
When you've completed a blog post, make sure you send a tweet about your blog post and the link to it.  Consider sending it twice, 12 hours apart, or four times, 6 hours apart, to give your followers a chance to see it and respond. But not too much. Some folks will start thinking you're promoting yourself too much and stop paying attention to you.
Here's a tweet that I might send about this article:
"How to send twitter retweets to your blog comments at billbolmeier.com/twitter-retweets-wordpress-comments."
I'd probably scrunch up the URL with bit.ly, the URL shortening service that also keeps stats on how many times the link was clicked.  That's what bit.ly does so well, besides scrunching up URLs.   🙂
When you've gained a following, and it doesn't have to be a whole lot, I would get into promoting your articles on your blog via twitter, one at a time of course.  You don't want to spam out to twitter a bunch of articles in a row.  But, to tweet that your blog has a new article is a way of shouting out to your followers and twitter, "Hey come on over, here's a new article I'd like you to checkout."
Don't get into the habit of promoting everything.  For instance, I have no reason to promote my monthly stats.  Monthly stats are more of a report for me to track and possibly show new bloggers that blogging is slow going and takes work to grow.
Tweets to Comments
So, when you start promoting your blog posts and you get all those folks retweeting your posts, wouldn't it be cool if you could capture those tweets as blog comments.  That way you can show readers of your blog that even if there are no comments, there are a bunch of folks who have tweeted your article for the world to come and read.  This helps influence readers to either comment or retweet your post to their followers on twitter.
Finally, if you're a WordPress (self-hosted) blogger, there is a plugin that does this nicely and it's called Chat Catcher.
What Chat Catcher does is grab all the chit chat out there on the twitter stream as well as friendfeed and indenti.ca about your blog posts and brings that audience back to your blog by way of comments.
Here's an example: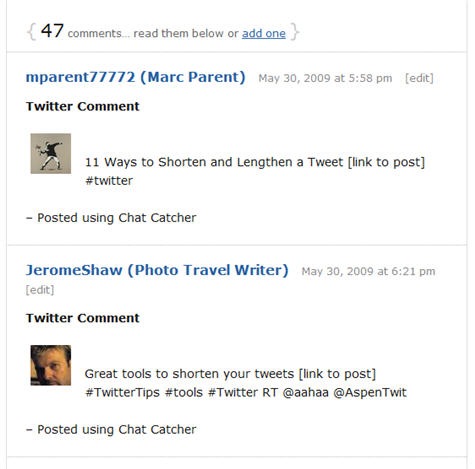 As you can see, the above image shows retweets that are pulled into your blog comments.  This is what the Chat Catcher WordPress Plugin does.
Here's the options screen you get in WordPress after installing the plugin.  The Chat Catcher menu choice is placed under the WordPress Settings menu.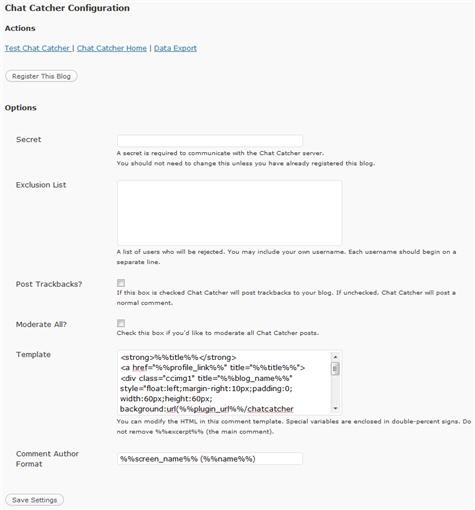 Click image for larger view (800px)
If you look at the configuration screen, you'll notice the Post Trackbacks? checkbox.  This will show trackbacks or links, back to the tweet at twitter.com.  When unchecked, the tweets will become part of the WordPress comment system.
Problems
One other consideration is, do you want a list of trackbacks to your retweeted articles or do you want them in your comments conversations?
If you send them to your comments, this could possibly break up the flow of conversation in a way that could be annoying to some folks trying to follow the conversations that take place in your blog's comments.  Especially if you have a lot of retweets for a blog post.
So you'll need to adjust according to your particular blogging style.
Conclusion
But again, at the beginning of this post I mentioned newbie bloggers getting comments and this is one helpful way to do that.
So that's it.  If you want to include what people are tweeting about your blog post articles, then Chat Catcher is the plugin of choice for me.  There are a couple or few other plugins like Chat Catcher but not as simple.
Oh yea, if you like this article, please retweet it using the retweet button below. I appreciate your support.