Here's this week's Five Faves.  Five favorite sites that offer an incredibly useful tool or two, a stunning design (eye candy) or some thought-provoking thinkery.  Feel free to sprinkle some of your own faves that you've discovered recently, in the comments.
1. Evite
It's that time of year – parties, parties, parties.  A great way to invites folks and make sure they get all the information they need is to use Evite.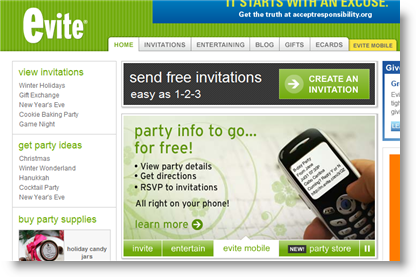 Evite allows you to create free invitations and is the top online invitation and social planning website.  Select your invite design, add email addresses and send via email or text messages.
Evite will track who can come to your event as your invitees reply.  Other options include:
Adding polls for your guests to answer – find out what movie, food or music everybody prefers
Letting guests select items to bring – great for potlucks and other group-run events
Allowing guests to invite more people to the event
Sending your invitation to your friends' phones and Facebook inboxes
2. A Couple of Five Articles
Drew McLellan wrote 5 reasons why other people will spread your personal brand.  Drew points out some of the attributes that you need to possess to carry your personal brand into 2010 and forward.
Talking about 2010, John Jantsch Founder of Duct Tape Marketing wrote about 5 Trends That Will Shape Small Business in 2010 over at American Express' Small Business Open Forum.
John talks about what we've seen in 2009 and looks forward to what 2010 will show us along with some apps that will help you navigate the trends of 2010.
3. Let's Get Political
While keeping tabs on H.R. 4173, the Wall Street Reform and Consumer Protection Act of 2009, I came upon a website I hadn't seen or used and will be using more often – OpenCongress.

"OpenCongress brings together official government data with news and blog coverage, social networking, public participation tools, and more to give you the real story behind what's happening in Congress."
4. Another To Do List
Here's a cool to do web app – TeuxDeux.  Why's it cool?  It's Simple.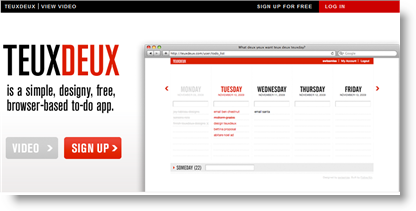 A visually compelling to-do app, TeuxDeux features include:
week overview
check off done tasks
delete tasks
move tasks
someday bucket
5. A PDF of Your Tweets
With tweetbook.in you can generate a pdf of your tweets, replies and favorites.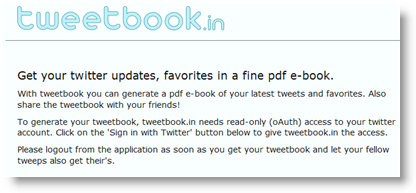 Yes, it can take a long time to generate a pdf of your tweets.