Here's this week's Five Faves. Five favorite sites that offer an incredibly useful tool or two, a stunning design (eye candy) or some thought-provoking thinkery. Feel free to sprinkle some of your own faves that you've discovered recently, in the comments.
1. Springwise
Springwise is one of the world's leading sources for new business ideas, powered by a network of 8,000 spotters.

Springwise scans the globe for the most promising business ventures, ideas and concepts that are ready for regional or international adaptation, expansion, partnering, investments or cooperation. We ferociously track more than 400 global offline and online business resources, as well as taking to the streets, cameras at hand.
Need ideas?  Want to see what's new and upcoming around the world?  Springwise is brain food for entrepreneurial minds!  Subscribe to the newsletter, visit the site once a week or browse ideas by industry.  You'll find something that'll get ya' thinkn'.
Check out their Top Ten Business Ideas for 2010.
2. AskCH
AskCH is a healthcare tool you can send a question about a healthcare cost or definition via a twitter direct message and receive an answer.

Imagine leaving the doctor's office with your sick child and you need to pick up a prescription.  You send a direct message via twitter to askch in this format: Cost of [drug name] near [zipcode].
So for example: "d askch cost of lexapro near 37211" would return your answer.  You have to follow askch on twitter.
Other questions you could ask via a direct twitter message include: What is [drug name] – Example: "d askch generic for plavix" and What is [health issue] – Example: "d askch what is diabetes".  Check out AskCH for more exmples.
3. FoxFilter
Need to filter your own web browsing in Firefox?  Wasting too much time browsing the web?  Install the Firefox add-on FoxFilter to help you stay focused on your work.  Or use FoxFilter as a parental control to protect your family's browsing on the web.

FoxFilter is a personal content filtering add-on for Firefox that automatically protects you from a number of websites as well as allowing you to include sites.  Can't seem to pull away from Facebook?  Add it in the blocked list.  Need to add an exception?  You can do that too.
Check it out.  FoxFilter is free but there's also a premium service with more features at $9.95 a year.
4. RescueTime
RescueTime is a tool that allows you to easily understand and optimize how you and your team spends their time and attention. One of the most important things about RescueTime is that there is NO DATA ENTRY. You install a small application on the computers at your company and we magically track what software and which web sites are actively being used.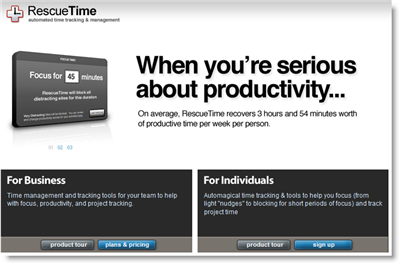 Read more about RescueTime and watch the product tour.
5. How to use Facebook with a feed reader
I love stuff like this.  I use Google Reader for my RSS reading.  This article explains how to add your Facebook Posts, Notes, Notifications and Status message to your RSS reader.  Enjoy.
That's it. Have fun!!