Here's this week's Five Faves. Five favorite sites that offer an incredibly useful tool or two, a stunning design (eye candy) or some thought-provoking thinkery. Feel free to sprinkle some of your own faves that you've discovered recently, in the comments.
1. GQueues
GQueues is a web app that allows you to keep lists of ordered items.  It looks and feels like Google made it but they didn't.  It does however interact with your Google account because it's built on top of the Google App Engine.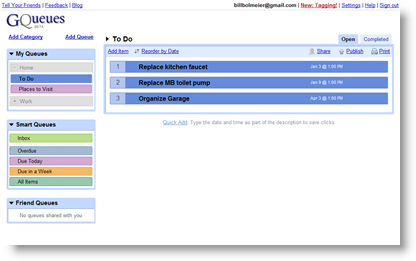 GQueues makes it easy to enter to do items as well as categorize items and reorder to do items. GQueues can also integrate with your Google Calendar.  You can set the date and time for a task as well as have an SMS or email message notify you.
A feature called Smart Queues lets you pull multiple types, or tagged items in a list. Make sure you check out some of the helpful GQueues videos to get started.
2. Web Design
Here's an article with a huge amount of web design to take you to the edge of design – 50 Best Web Design Blog Posts In 2009.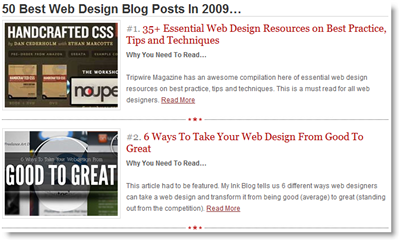 Includes CSS, Photoshop, Freelancing, Best Practices, Promoting you design, Free Fonts, Forms, eCommerce, Portfolio Design, Minimalism, Web Design Books, Web Design for Blogs, much more.  You can never get enough incredible design ideas and inspiration.
3. Knowem
Knowem is a website that will create a profile for you at over 350 social media networks.  Why would you want to do this?  Whether you're a company or an individual, Knowem helps you secure your brand name or personal name before someone else does.

You can check your name instantly to see how many of the sites you're already registered at.  Knowem offers a free account in addition to paid plans that offer more features.   A nice feature they provide is listing all those social sites into categories which makes it easier to work with.
4. All Things Tech for 2010
Over on TechCrunch, Michael Arrington wrote 2010: My Fifth Annual List Of The Tech Products I Love And Use Every Day.  Check this list out and see if you're using anything them.  I'm sure you'll find something new to check out.  While you're there, check out their Ten Technologies That Will Rock 2010.
5. SlideDeck
SlideDeck provides a way to display content on your website in a sliding panel metaphor.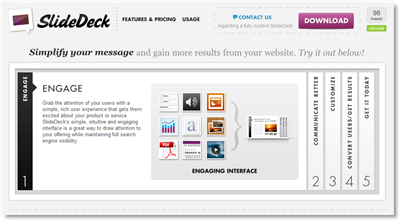 There is a lite (free) version as well as a pro version.  Built on jQuery, SlideDeck is easy to install with a few lines of code.  I fired up my local WordPress and tried it out on a page.  Pretty slick.  The free version offers a simple interface that presents your content clearly.
That's it.  Have fun!!