Here's this weeks Five Faves.  Five favorite sites that offer an incredibly useful tool or two, a stunning design (eye candy) or some thought-provoking thinkery.  Feel free to sprinkle some of your own faves that you've discovered recently, in the comments.
1. PageLime
PageLime is a "remote Conent Management System".  It reads an existing site's CSS and enables you to edit your website using PageLime.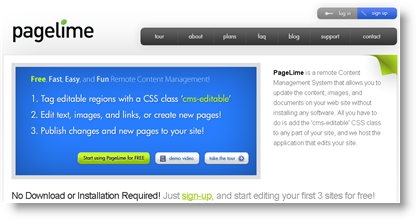 By placing a CSS class called "cms-editable" in various areas of your web pages, PageLime will allow you to edit those areas.
There's also an image management feature that allows you to zoom and crop images for your site.  A photo editor allows you to apply various effects right from your browser.
There is nothing to store on your computer when you use PageLime.  It is a hosted service that uses FTP to interact with your website.
PageLime is free and offers paid plans with more features.
2. Passion
Leo Babauta of Zen Habits wrote The Short but Powerful Guide to Finding Your Passion.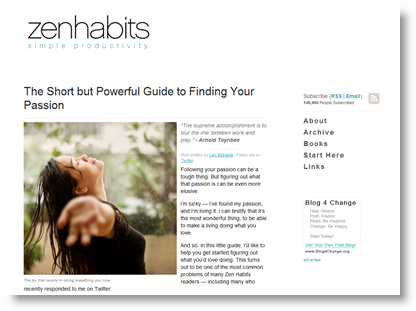 This little guide takes you through 10 steps to help you determine what it is you're passionate about.  What you love doing and making a living at it.
Here are the 10 steps:
What are you good at?
What excites you?
What do you read about?
What have you secretly dreamed of?
Learn, ask, take notes.
Experiment, try.
Narrow things down.
Banish your fears.
Find the time.
How to make a living doing it.
Now go read about 'em.
3. GratitudeLog
The GratitudeLog is…
"…a website where people come together to celebrate happy moments, send simple gifts of appreciation and brighten up each other's day. It's based on the simple practice of expressing gratitude daily for wonderful moments in your life."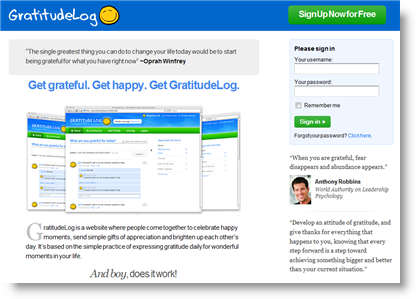 What a great idea GratitudeLog is.  A twitter-like community where you follow people and have followers.  You can send emails to invite people to join you at GratitudeLog and there are virtual gifts you can send people.
You can link your Facebook and Twitter accounts to GratitudeLog which will automatically send your Gratitudes to Facebook and Twitter.
When I first visited the site I thought this would be great in a company setting where you'd run GratitudeLog internally.  It would be nice if you could set it up by email domain, like Yammer and have employees use GratitudeLog to enhance the culture of a company.
By the way, Yammer is a great twitter-like tool that is based on email domain that is used within a company but hosted at Yammer.
4. Passwords, Passwords, Passwords
We're inundated with websites where we have to provide a unique password.  Sometimes we get lazy and use the same password over and over for every website we visit.
That isn't a good idea because if one password gets stolen then all the websites you use that password for are accessible to anyone who has the password.
There are some simple steps you can take to come up with multiple unique passwords that are memorable for each website you visit that require passwords.
Visit Fix Your Terrible, Insecure Passwords in Five Minutes over on Slate to read about why you need to change your passwords and how to change them to be more secure.
5. Twitter Lists – Listorious
Recently Twitter introduced lists, where you can create your own lists and categorize the people you follow or you can follow other people's lists.
One website, Listorious, has a directory of "Awesome Lists On Twitter."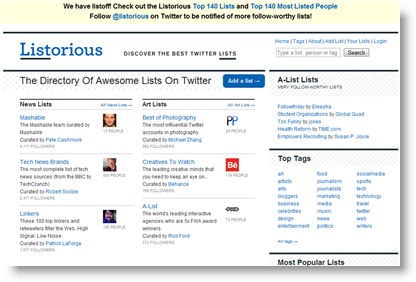 Using the Twitter Lists API, the folks who created Listorious have numerous lists you can checkout from around the twittersphere.
The Listorious 140 Lists lists the most popular lists on twitter.  Check out all the different twitter lists at Listorious.
I'm tweaking my newsletter but in the meantime if you want a couple of extra tips on using twitter lists, please subscribe to my newsletter.