Here's a screen capture of the WordPress Plugins I have installed on my blog.  I've talked about them in some of my posts but here's a screen capture you can click on and view a larger image if you'd like to check them out yourself and see if you can use them or even need them.  They're all listed below as well.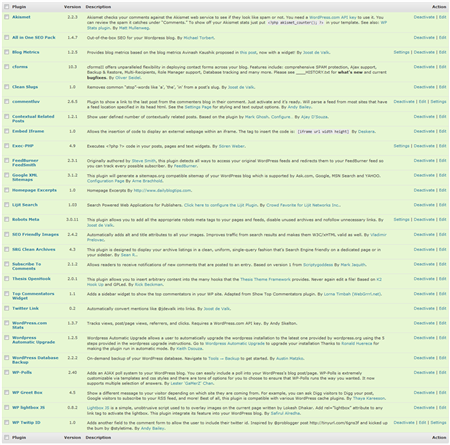 Click image for larger view (1024px)
Here are the plugins that are currently installed on my blog and their descriptions and links:
1. Akismet – Akismet checks your comments against the Akismet web service to see if they look like spam or not. You need a WordPress.com API key to use it. You can review the spam it catches under "Comments." By Matt Mullenweg.
2. All in One SEO Pack – Out-of-the-box SEO for your WordPress blog. By Michael Torbert.
3. Blog Metrics – Provides blog metrics based on the blog metrics Avinash Kaushik proposed in this post, now with a widget! By Joost de Valk.
4. cforms – cformsII offers unparalleled flexibility in deploying contact forms across your blog. Features include: comprehensive SPAM protection, Ajax support, Backup & Restore, Multi-Recipients, Role Manager support, Database tracking and many more. By Oliver Seidel.
5. CleanSlugs – Removes common "stop"-words like 'a', 'the', 'in' from a post's slug. By Joost de Valk.
6. CommentLuv – Plugin to show a link to the last post from the commenters blog in their comment. Just activate and it's ready. Will parse a feed from most sites that have a feed location specified in its head html. By Andy Bailey.
7. Contextual Related Posts – Show user defined number of contextually related posts. Based on the plugin by Mark Ghosh. By Ajay D'Souza.
8. Embed Iframe – Allows the insertion of code to display an external webpage within an iframe. By Deskera.
9. Exec-PHP – Executes <?php ?> code in your posts, pages and text widgets. By Sören Weber.
10. FeedBurner FeedSmith – Originally authored by Steve Smith, this plugin detects all ways to access your original WordPress feeds and redirects them to your FeedBurner feed so you can track every possible subscriber. By FeedBurner.
11. Google XML Sitemaps – This plugin will generate a sitemaps.org compatible sitemap of your WordPress blog which is supported by Ask.com, Google, MSN Search and YAHOO. By Arne Brachhold.
12. Homepage Excerpts – Homepage Excerpts By http://www.dailyblogtips.com.
13. Lijit Search – Search Powered Web Applications for Publishers.  By Crowd Favorite for Lijit Networks Inc..
14. Robots Meta – This plugin allows you to add all the appropriate robots meta tags to your pages and feeds, disable unused archives and nofollow unnecessary links. By Joost de Valk.
15. SEO Friendly Images – Automatically adds alt and title attributes to all your images. Improves traffic from search results and makes them W3C/xHTML valid as well. By Vladimir Prelovac.
16. SRG Clean Archives – This plugin is designed to display your archive listings in a clean, uniform, single-query fashion that's Search Engine friendly on a dedicated page or in your sidebar. By Sean R..
17. Subscribe to Comments – Allows readers to receive notifications of new comments that are posted to an entry. Based on version 1 from Scriptygoddess By Mark Jaquith.
18. Thesis OpenHook – This plugin allows you to insert arbitrary content into the many hooks that the Thesis Theme Framework provides. Never again edit a file! Based on K2 Hook Up and GPLed. By Rick Beckman.
19. Top Commentators Widget – Adds a sidebar widget to show the top commentators in your WP site. Adapted from Show Top Commentators plugin. By Lorna Timbah (WebGrrrl.net).
20. Twitter Link – Automatically convert mentions like @jdevalk into links. By Joost de Valk.
21. WordPress.com Stats – Tracks views, post/page views, referrers, and clicks. Requires a WordPress.com API key. By Andy Skelton.
22. WordPress Automatic Upgrade – WordPress Automatic Upgrade allows a user to automatically upgrade the wordpress installation to the latest one provided by wordpress.org using the 5 steps provided in the wordpress upgrade instructions. Thanks to Ronald Huereca for making the plugin run in automatic mode. By Keith Dsouza.
23. WordPress Database Backup – On-demand backup of your WordPress database.  By Austin Matzko.
24. WP-Polls – Adds an AJAX poll system to your WordPress blog. You can easily include a poll into your WordPress's blog post/page. WP-Polls is extremely customizable via templates and css styles and there are tons of options for you to choose to ensure that WP-Polls runs the way you wanted. It now supports multiple selection of answers. By Lester 'GaMerZ' Chan.
25. WP Greet Box – Show a different message to your visitor depending on which site they are coming from. For example, you can ask Digg visitors to Digg your post, Google visitors to subscribe to your RSS feed, and more! Best of all, this plugin is compatible with various WordPress cache plugins. By Thaya Kareeson.
26. WP lightbox JS – Lightbox JS is a simple, unobtrusive script used to to overlay images on the current page written by Lokesh Dhakar. Add rel="lightbox" attribute to any link tag to activate the lightbox. This plugin integrate its feature into your WordPress blog. By Safirul Alredha.
27. WP Twitip ID – Adds another field to the comment form to allow the user to include their twitter id. Inspired by @problogger post http://tinyurl.com/6gns3f and kicked up the bum by @styletime. By Andy Bailey.
For more WordPress plugins to come, please subcribe to my blog.