This post is part 2 of the Inside a WordPress Theme Guide. You might want to bookmark this guide at Delicious as a way to access it easier in the future and share with others.
What's a 404 page? It's when you browse to a website and you're presented with something like this:

The screenshot above is an older and more common 404 page that a lot of folks saw with Internet Explorer.  It means that the server you browsed to couldn't find the page you were looking for.
Handling 404
There are many ways you can handle this on your blog or website.  Whether a visitor shows up from a bad link to your website or types in a wrong URL, it's up to you to keep them there even though they haven't found what they're looking for.
Sticking with our mnmlist WordPress Theme, let's take a look at the default 404 code that the theme contains.
If you're using WordPress, you can use the theme editor to view the contents of the files for your theme.  The screenshot below displays the 404.php file in the WordPress theme editor.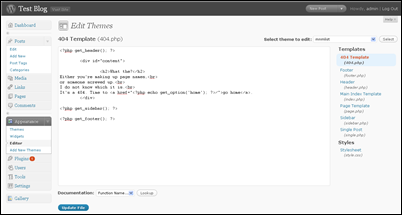 Click image for larger view
The resulting 404 page message using the mnmlist theme will look like this: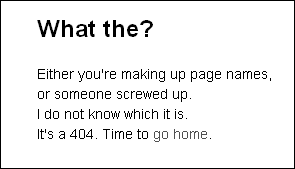 Notice the last sentence, "Time to go home."  The "go home" is a hyperlink to the home page of the blog.
So if you want to change this message you can certainly do so using the WordPress editor.  Note: Some premium themes might have you change it a different way.
There are many ways to provide a message regarding a 404 message and you can get as creative as your blog allows you.
Testing and Resources
Type in your browser's address box a bad link to my site: http://billbolmeier.com/testing123 and you'll see my 404 page.  I provide my visitors with a short explanation, a link to my archives pages, a way to search this blog, and a link to my contact form.
Here are some links I've included so you can get a better idea of the many ways you can provide a 404 page to your visitors.
404 Best Practices by CSS-Tricks
404 Error Pages, One More Time – Smashing Magazine
60 Really Cool and Creative Error 404 Pages – HongKiat.com
Don't forget to check out the comments of the above articles.  They also include great ideas and resources for 404 pages.