Hi folks, this blog post is about working with WordPress and more specifically working with WordPress locally on your computer. By locally, I mean installing and running WordPress on your PC and not over the Internet on a Web Server.  I'm working in Windows XP and that's what this article is written around.
Why would you want to spend time running WordPress locally on your PC?  Well, I personally like to keep my server version as clean as possible and not muck it up with a bunch of plugins or themes just for the sake of trying stuff out.
So, running WordPress locally will allow you to run and test plugins as well as different themes.  It also lets you download and run beta versions of WordPress, which I like to do so I can stay up with what's happening in the WordPress world.
XAMPP Lite
The first step you'll want to do is download XAMPP lite.  XAMPP Lite is a freely available bundle of software that includes the necessary components to run WordPress on your PC.  What are those components?  Well, first of all XAMPP Lite comes with a server that runs the Apache Server software and MySql database software.  The Apache Server software interprets the PHP programming code that WordPress is written in and MySql is the database that WordPress uses to store its various information.
What I do is download the self-extracting executable and extract all the files to a folder called xampplite under c: – c:\xampplite
Here are the steps to run XAMPP Lite.
Run the batch file c:\xampplite\setup_xampp.bat by double-clicking on it in Windows Explorer.  You only have to do this once and never again, unless you move c:\xampplite to another drive letter.
Now double-click on c:\xampplite\xampp-control.exe and you'll see the following screen.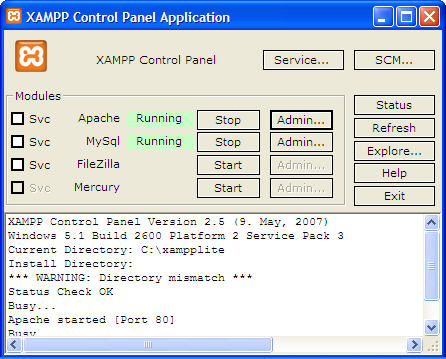 Start the two services Apache and MySql by clicking on the Start button to the right of each service.  Click on the Admin button next to the Apache service.  This will take you to the local XAMPP page where you can click on English or whatever language is meaningful to you.
Click on the sidebar tool phpMyAdmin.  In the Create new database box, type wordpress and select the MySql connection collation utf8_general_ci.  Click on the Create button.  You now have a database called wordpress.  Let's leave this now and install WordPress on your PC.
WordPress
You can either download the latest production version or you can download the latest beta version to keep track of what the WordPress folks are up to.
After downloading WordPress you'll want to extract it to c:\xampplite\htdocs so the folder structure it looks like c:\xampplite\htdocs\wordpress.
Copy or rename the file c:\xampplite\htdocs\wordpress\wp-config-sample.php to c:\xampplite\htdocs\wordpress\wp-config.php and open wp-config.php in your favorite text editor.
Replace the line putyourdbname to wordpress and place the name root in the usernamehere.  Set the password – yourpasswordhere to blank – " – just single empty quotes.  Save and close the file.
Now for the fun part.  Browse to the URL http://localhost/wordpress.  If successful, you'll be presented with a page asking for the title of your blog.  Fill in whatever you want for the title, like Test Blog for instance.  Enter your email address so if you ever forget your password that you'll be assigned, it will be emailed to you.  Clear the check box Allow my blog to appear in search engines like Google and Technorati and click on the Install WordPress button.
You'll want to copy your assigned password so when you login as admin you can provide that password by pasting it into the password box.  You'll be able to change it at another time.  After you see the WordPress Dashboard, click on the Visit site and you'll see the home page of your blog.
That's it for now.  You have a fully functional and running version of WordPress on your local PC.  I'll investigate WordPress in future articles so make sure you subscribe to my blog.